It's not uncommon for contractors to build themselves huge mansions, sparing no expense to construct a monument to their egos. Wally Hughes is not one of those types. He contacted us to share the story behind this home, which he and his wife built to reflect their values of living a simple, humble, and fulfilling life. As a licensed contractor with 30 years of experience, he owns Simply Home, and this 704 sq. ft. cabin showcases not only his building skills but the philosophy he brings along with any project. It's one many contractors would do well to imitate.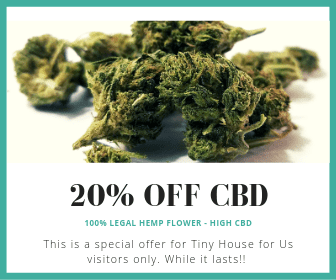 They found a parcel of land in Western North Carolina, with a view overlooking the Chimney Rock State Park, and designed the home to make use of its surroundings. The shed roof provides high vaulted ceilings, making the interior space feel much bigger than it really is. The front of the house faces north, where the mountains are located, and it contains most of the large windows that allow plenty of indirect light to spill in during the day.
"I am a builder who believes in living sustainably and not just trying to make a buck off the latest trend. We built our home using readily available materials that are common in every day construction. We wanted home that was affordable and comfortable. We hope to encourage others down the same path."
Wally chose metal as the roofing material, noting its ability to reflect heat and also for its long term durability. There's a large screened in porch on the east side of the house, a perfect place to catch an early morning sunrise, and the front deck provides plenty of extra space to enjoy the sunset. To preserve the view from the deck he used stainless steel cables to join the railings.
As with any small house, storage is crucial, and he made special considerations for that purpose, creating extra bookshelves in the staircase and adding a lofted sleeping area that can double as an extra place to keep a few things. Throughout the building process Wally aimed to source natural materials for the home, using pine for the flooring and tile for the bathroom and kitchen countertops. He also sourced the board and batten siding from a local sawmill.
With this home, Wally and Shawna can live life on their own terms, with less cleaning to worry about, fewer bills to pay, and more time to enjoy each other's company, which is perhaps the greatest benefit of all.
To see the floor plan and more pictures visit their website at http://www.simplyhomenc.com