This "Mountain Mansard" is a beautiful tiny house on wheels with a rustic/vintage feel built by Spice Box Homes, and it is among the first of their designs slated for release in June, 2015. While we don't have any photos of the interior to share, judging by the unique exterior appearance our hopes are high.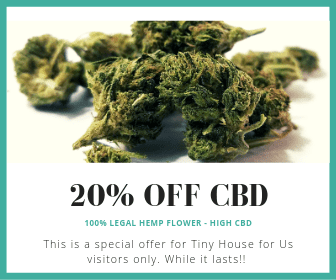 We can tell you a few things about it though. There's a mini greenhouse window built into one end, and perhaps most interesting is the extra 40-square-foot addition sticking out of the side, which adds a substantial bit of room to the 105-square-foot main portion. Since it's built on wheels we are interested in learning how this feature works when it's on the move…
The company is based in Colorado and owned by simple living expert Chris Curry, who says they use upwards of 75% reclaimed/salvaged materials in their builds.
"We have used wood siding taken off old barns, refinished counters found in dumpsters, and picked up windows off the side of the street. We love the look of weathered metal, and have found great uses for culled wood from local sawmills used for incredible flooring. All of these options surround us and are waiting to be explored."
Otherwise, we don't know much else, but we look forward to seeing more of this beauty in the next month! In the meantime, check out http://www.spiceboxhomes.com/ to learn more or get in touch.