This unusual cruciform tiny house was designed by architect Dachi Papuashvili of Tbilisi, Georgia, to serve as the residence of a monk or priest. While developing plans for an Orthodox monastery in 2011, Papuashvili realized that traditional stone construction, while attractive, has a couple of big drawbacks: it requires a lot of manpower to implement, and the necessary quarrying has a substantial environmental impact. That led him to create this alternative religious housing design, which he calls the "Skit".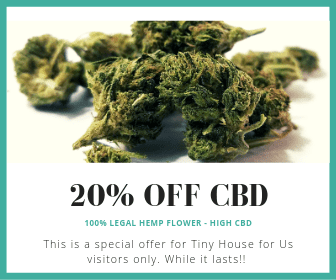 It's made from recycled shipping containers, but is considerably more vertical than most shipping container homes. Its unique shape makes for a very interesting division of the interior space, as you can see from the cutaway picture included here. The building has completely separate rooms on the first, second, and fourth floors, and even the horizontal section constituting the third floor is quite clearly broken up into a kitchen, sleeping area, and study.
That's effectively six rooms in one 260-square-foot tiny house. Would it feel cramped because each one is so small? Or would it feel like a mini-mansion because there are so many different places to go? It might not work for a couple, who'd no doubt spend most of the day bumping into each other, but for a single, celibate occupant engaged mostly in prayer and study, the layout seems quite adequate.
The floor-to-ceiling windows in the kitchen and study should help it feel more spacious, and the three deck areas (a large one on the first floor and two smaller ones on the roof) provide easy access to the outdoors. And whether you're looking at it from the inside or the outside, its all-wood finish gives a sense of craft and care sure to promote inner calm.
While these images are surely impressive it remains to be seen whether or not this design will come to life. If and when the structure is built we will certainly report back.