Here's the newest model from Tennessee Tiny Homes / Tiny Happy Homes, and out of 30+ builds they've completed I think it might be their best-looking one yet. It was completed earlier this month and hasn't been added to their website yet, but there's a Facebook gallery where you can find more pictures.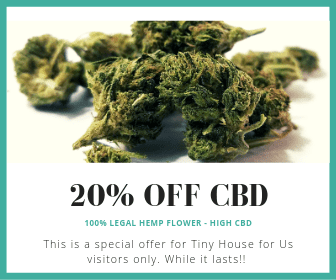 It shows off a distinct exterior appearance thanks to the use of various shades of natural wood cladding, and inside it follows suit, with a beautiful wood ceiling and floor. The whitewashed walls provide a nice contrast and make the 144-square-foot interior feel lighter and roomier. A full closet, storage loft, and lots of shelves provide ample storage space while a fold-out table and pull-up ladder make for more versatile layout with extra room to move around.
You're not the only one who wants to see what's inside!
Butcher block counters, a farm sink, and full-sized refrigerator and oven units make cooking in the K10 a genuine pleasure.
The bathroom holds a composting toilet and a metal shower stall.
The sleeping loft seems to have a lot of space and plenty of light thanks to the windows on all sides. With beautiful natural wood covering the floor and ceiling it a very nice space indeed.
On the opposite end there's an extra storage loft accented by a triangular window. You can also see the pulley system that raises the ladder out of the way.
The custom bench seat has a folding table that conveniently tucks away, making room for the ladder.
Another table folds out, opposite the bench seat, offering a space to dine, study, play board games, or whatever!
A composting toilet and stainless shower round out the bathroom.
There's a lot to admire about this build. I especially love the combination of white walls and natural wood which gives it a thoroughly country feel. Plus, with the built-in storage, multi-use furniture, sliding door in the bathroom, and the ladder pulley it brings together a ton of great features to make living in a tiny space easier. You'll also find two exterior storage sheds, not shown, which help reduce clutter.