Here's a great family home and a great introduction to the custom work of Dave Bates, who owns Tiny Portable Cedar Cabins out in Spirit Lake, Idaho. The 400-square-foot Urban Cabin is one of Dave's larger builds and even has a nursery complete with a crib, play mat and toy storage. (Swap the crib for bunk beds and there'd be room for a younger sibling…) The nursery's next to a big bathroom and looks across a living area to a full-width kitchen at the other end of the house.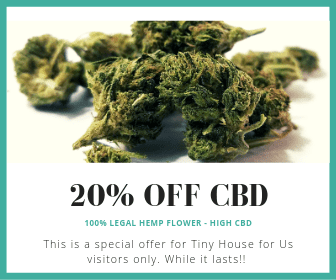 To one side, stairs climb over a washer/dryer unit to a low-ceilinged but large – and just as importantly, private – loft master bedroom. Huge windows on the ground floor let in lots of natural light, and the upper windows also crank open to ventilate the loft.
The Urban Cabin is portable, but not as easily as tinier houses. The 14-foot width meant it had to ride a tractor-trailer to its Washington State destination, costing the new owners several thousand dollars in transport fees. Of course, that's no more than you'd pay a moving company to haul your furniture between two standard-sized houses in different states – and the Urban Cabin's $45,000 base price should leave most homebuyers with plenty in the budget to cover delivery.