A lot of people downsize when their children move out or they retire, but to date most of them don't scale things back quite as far as Stacy Thompson's planning to. The 73-year-old is still running a small business, but she wanted to be prepared for living on a reduced income in the future. The smaller the house, the smaller the overhead, so Stacy had Better Built Barns put up a 192-square-foot Lowe's shed in her goat pasture, then hired contractor friends to turn it into a livable residence. Her favorite features are the skylights and the French doors because of the way they open up the space and let the light inside. She also loves the covered deck, saying that it's "like a whole other living space" where she can sit in summer and shelter her potted plants in winter. Her bed is downstairs, but there's also a loft sleeping area for family visits – and eventually maybe a live-in caregiver, as Stacy has absolutely no plans to trade in her "lowes tiny house" for a nursing home at any point down the road.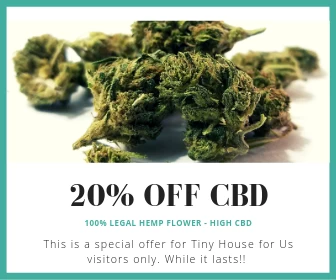 Images courtesy Stacy Thompson | h/t Tiny House Talk
Stacy's shows what you can do with Lowes Tiny Homes and some creativity. Want to learn more about Stacy's barn home? Check out the full interview on Tiny House Talk, where she goes into detail about her living arrangements.