Have you ever thought about turning a Tuff Shed into a tiny home? If so, you've come to the right place! This blog post will provide you with all the information you need to know about these adorable homes. Tuff Shed is a leading manufacturer of storage sheds, and they offer a wide variety of options to choose from. We will discuss the different sizes and styles available and some of the unique features that Tuff Shed offers. So, read on for all the details!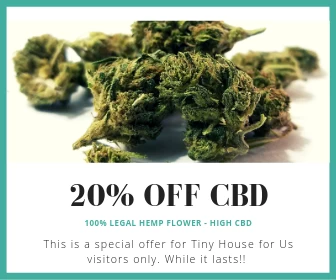 What are Tuff Shed's tiny homes?
Tuff Shed's are outdoor storage sheds sold in kits. Using an outdoor storage building as the blueprint for your tiny house project is a great option because they're sold in kits that are easily assembled. All you have to do is give the instillation team a level site, and they'll come install your shed in just a few weeks from ordering. They also generally have a low initial build cost. Which makes these one of the best ways to get a tiny house at an affordable price.

What are the different sizes and styles of Tuff Sheds available?
Tuff Shed offers a variety of different sizes and styles to choose from, so you can find the perfect fit for your needs. Depending on whether you want a Tiny House on Wheels or a stationary tiny house, you can get a variety of sizes and footprints.
The smallest (and most inexpensive) options are the Garden Ranch Tuff Sheds. These are generally too small for most tiny house enthusiasts but can be a great option if you're looking for extreme minimalism.
One of the most popular styles is the Barn-Shaped Tuff Shed (which is sold in multiple sizes starting at just under 100 square feet). The Barn-Shaped sheds also have a very high ceiling essentially making them work as a cool 2-story Tuff Shed if they don't sell any of their actual 2-story plans aren't sold in your area. This makes makes the Tall Barn Floor plans great for affordable two-story tiny homes.
What unique features does Tuff Shed offer?
Tuff Shed is committed to providing the highest quality products, and their tiny homes are no exception. Some of the unique features that Tuff Shed offers include:
You'll save money on basic building plans since the standard footprint will already be done
A variety of roof materials and styles from traditional dimensional shingles to an upgraded metal roof option
8-foot-high walls perfect for standing
a variety of roof styles from flat to pitched roofs
Variety of exterior options like window boxes and upgraded windows to make for a cute house
What are the benefits of owning a Tuff Shed tiny home?
In addition to being incredibly cute, Tuff Shed tiny homes have a number of benefits. In addition to being affordable, they have a large number of features. Tuff sheds are easy to maintain, able to be placed on any lot, and backed by a 5-year warranty

What is the process of ordering and building a Tuff Shed tiny home?
If you're ready to take the plunge and order your very own Tuff Shed tiny home, the process is actually quite simple. First, you'll need to select the size and style of Tuff Shed that you want. Then, you'll choose your desired features and options. Once you've made all your selections, Tuff Shed will provide you with a price quote. If everything looks good to you, simply place your order, and Tuff Shed will take care of the rest! Your new tiny home will be delivered directly to your property, and they offer a variety of installation options to suit your needs.
What does it cost to make a Tuff Shed Tiny House?
The average cost of a Tuff Shed Tiny Home is going to be approximately $50,000. Although this average price, is heavily dependent on your exact process (and how much you do it yourself).
The Base Price of a Tuff Shed is going to be $10,000 – $25,000 dollars. Thought after this the sky is the limit on the extra costs.
You'll typically want to put the Tuff Shed on a concrete slab at minimum. This will cost $4-8 per square foot. This means a 200 square foot foot print will cost between $800 and $1600 dollars (though you can save money by doing it yourself).
You'll then need to insulate it (though Tuff Shed does have a Radiant Barrier option that will provide everything straight from the factory except floor Insulation).
Once you get to the finishes on the inside, you can spend as much (or as little as you want). You'll typically at the minimum need flooring and drywall, but this can range from a few hundred dollars to tens of thousands depending on the finishes you choose.
If you're considering owning a Tuff Shed tiny home, there's no need to wait any longer. Tuff Sheds are incredibly affordable, easy to maintain, and can be placed on any property. With a variety of floor plans and customizable options, Tuff Shed has the perfect tiny home for everyone. So what are you waiting for? Order your Tuff Shed today!