Until recently the tiny house movement was still in its fledgling stage, at least from a mainstream perspective.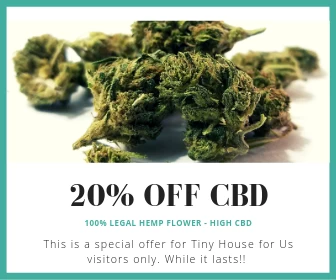 But over the past few years, a rising tide of interest in tiny houses has brought a newfound appreciation for small living. Take the hit Netflix show Tiny House Nation, for example—just one indication of the increased popularity of tiny homes.
And as tiny houses become more and more common, we're likely going to see increasing numbers of companies building custom-designed tiny dwellings.
In fact, there are already some great tiny house companies out there, from tried and true tiny prefab house manufacturers like Tumbleweed Tiny House Company to lesser-known businesses like Zyl Vardos.
This makes scanning a tiny house builders directory already quite overwhelming. With heaps of companies seeking your business, how should you pick the perfect tiny house builder for you? What's the best way to find a tiny house for sale?
To make the decision easier, we've picked our top 10 favorite tiny house companies. These are companies that stick firmly to the original tiny house ethos, combining masterful craftsmanship with an eye for creative design, all while staying affordable.
If we had to pick one of these tiny house companies? It would probably be Tumbleweed Tiny Homes. As one of the original tiny home companies, they've set the benchmark high and continue to create some of the best tiny homes in the business.

More interested in saving money? We don't blame you. First, determine if it's

cheaper for you to buy or build a tiny house

. Then check out Custom Container Living, one of the best cheap tiny house companies out there.

As for those companies making luxury tiny homes for individuals with a taste for life's finer things? Check out New Frontier Design.
Tumbleweed is the granddaddy of tiny house companies, in business since the early 2000s and still going strong. In fact, they can claim to be the largest manufacturer of Tiny House RVs in North America. As such, they've had a major influence on the entire tiny house movement and their iconic Fencl/Cypress model is often the first thing that pops into people's minds when they think of tiny houses.
Despite their strong presence in the tiny house movement, Tumbleweed can only build so many houses. As a result, many of the Tumbleweeds you see around are owner-built from blueprints or made by other companies like The Shed Yard in Colorado.
What makes Tumbleweed Tiny Houses so great? Their ability to combine functionality with an understanding of aesthetics, as well as an appreciation of the need to keep costs down and customers happy. Extensive customer feedback sessions ensure they're always evolving and improving too.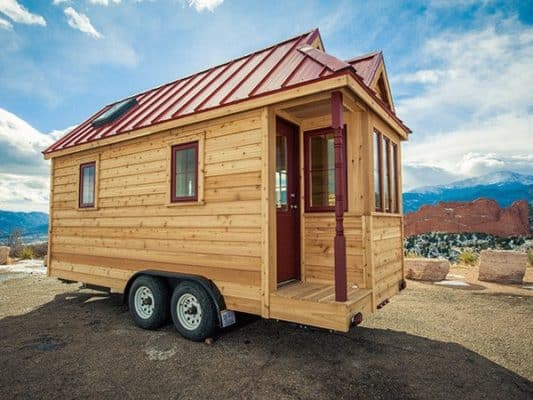 Tumbleweed's Cypress (Fencl)
Architect Greg Parham founded Rocky Mountain Tiny Houses as soon as he finished building his own tiny home. His philosophy is all about keeping things minimal and building tiny houses is a way of encouraging others to simplify their lives.
Based in the San Juan mountains in Durango in Colorado—and one of the state's most established tiny house companies—his builds are beautiful yet affordable. His team also refuses to skimp on quality. You'll never find cheap insulation or poorly done plumbing in a Rocky Mountain Tiny House.
Visually striking exteriors are also one of Greg's trademarks. For example, he used wood-and-metal siding combos and undulating roof curves to good effect on a couple we profiled. With the company's emphasis on customization, they offer tiny homes that are just as unique as their owners.
The 12-foot Funky East Austin Rental
Established in 2015, this company makes shipping container homes with an emphasis on sturdy construction and low prices. You can pick up the company's Professional container, for example, for $47,900, or a one-bedroom container home with a loft for $86,900.
The standard shipping containers are either 20 feet or 40 feet and feature closed-cell spray foam insulation. They can also accommodate solar technology.
These container homes can be ready to live in really quickly, with construction times taking between eight and twelve weeks. Most are also Certified Manufactured Homes which makes it easier to get financing and municipality approval.
The "Zyl" in Zyl Vardos is Abel Zimmerman Zyl, company founder and carpenter extraordinaire. His vardos are like nothing else you've seen before. With a totally unique style, these tiny homes are like gypsy wagons crossed with steampunk starships, sprinkled with a touch of Tolkien, and a dash of (ahem) madness. Zyl Vardos is definitely one of the most unique tiny prefab house manufacturers out there.
Founded in 2007, Zyl Vardos can now also claim to be one of the most experienced tiny house companies in the country. Situated in Olympia, Washington, they'll ship their structures anywhere in the US.
The most notable features of Zyl Vardos tiny houses are the handmade windows and doors, strikingly shaped rooflines, and gorgeous bespoke interiors. Near-total in-house construction also means superior quality control. Plus, almost all the materials they use are non-VOC and sustainably sourced.
You can own one of these beauties for $58,000 but top-of-the-line models can be as much as $110,000. Completely custom-built designs are also a possibility.
The Ark
Inside the Pinafore
Molecule is a custom tiny house building company based in Santa Cru and they've built everything from tiny houses on wheels to treehouses to a teahouse-style artist's studio. They'll even do van conversions too. Seen a design you particularly like? They'll duplicate it for you.
Based in Chattaroy, Washington, Molecule Tiny Homes make fully customizable tiny homes, designed to last as long as a conventional house. They use standard construction techniques and include propane ovens, sinks, showers, tubs, and toilets—although other tiny house appliances will be up to you. Their tiny homes are generally built on trailers ranging from 8 x 12 feet to 8'6 x 26 feet but can be made even larger upon request.
If you know what you want, it's a fair bet Molecule Tiny Homes will be able to build it for you—and do so within your budget. Past projects have ranged in value from $20,000 to the $100,000 Craftsman model we showed you a while back.
The Dormer Loft Cottage from Molecule
With designer Ian Kent at the helm, Nomad reimagines modern living in a way that balances use of space with aesthetic considerations, all while remaining financially accessible.
Created with the express purpose of providing decent houses for those unable to buy a standard house, this company makes tiny homes that feel high-quality but are also affordable, making them one of the best tiny prefab house manufacturers for those looking to buy their first home.
How does Nomad keep costs down? Modular design allows for flexible layouts, mass-produced to save money through economies of scale. They also eliminate complex processes that require the (often expensive) input of skilled tradespeople.
The results of this process are the brand's Micro and Cube models, $25,500 and $38,800 respectively, with the option to add on extra modules for an additional cost. Both are sleek, modern, and perfect for minimalist tiny living.
As the name suggests, this tiny house company is based in Tennessee, but owners Joe and Kristen Everson are happy to build tiny homes for people around the country. This small business prides itself on its super affordable tiny homes and we appreciate the low-key and down-to-earth family-run feel of the company.
The company's wood-sided, metal-roofed tiny houses on wheels are RVIA-certified and come fully loaded with sink, shower, toilet, air and water heaters, stove, and mini-fridge.
Not sure about tiny homes? Tennessee Tiny Homes also specializes in metal buildings, pole barns homes, and barndominiums.
Check the company's Facebook for updates on recent builds or message them directly to see what they can do for you.
The Wedgie
We featured the V by Nelson Tiny Homes way back in 2015 and since then the company has gone from strength to strength. A locally-owned, family-run, and sustainably-focused company, they are located in British Columbia and are committed to creating authentic and unique tiny homes for their clients.
The company only makes 4-5 homes each year which allows them to focus on delivering a truly personalized service. They offer two feature models, the Acorn and the V. Both can be fully customized, are CSA compliant, and come with a 5-year structural warranty.
Nelson Tiny Homes is also working on a 15-episode video series on building your own tiny home, due to be released in fall 2021.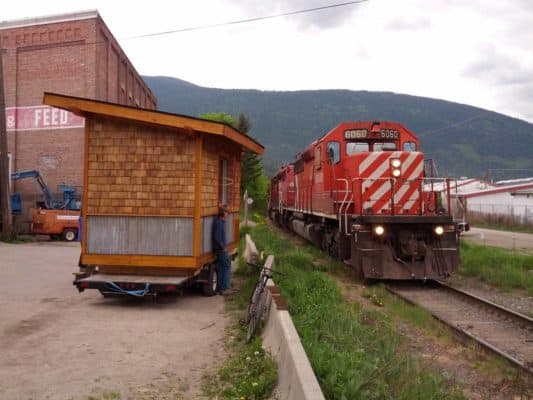 The V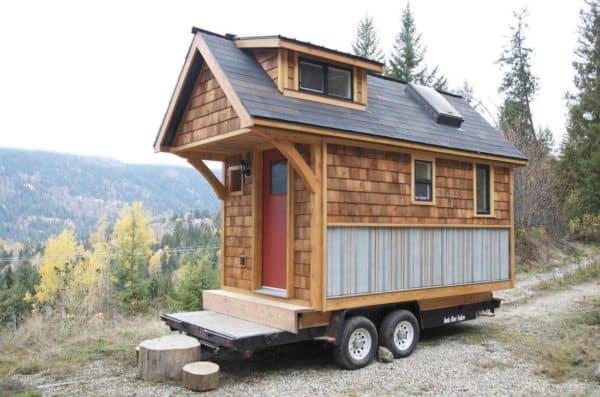 The Acorn
If you're looking for an upscale luxury tiny house, New Frontier Tiny Homes is the company for you. They've made a name for themselves with their premium tiny homes that feature stunning interiors and memorable exterior design too.
Launched in 2015, and originally a father-son project, New Frontier now has a number of different and highly-coveted tiny house models, from the original Alpha to the recent $75,000 Luna. With 5 different models in total, they've also collaborated with Paragon Builders in Nashville to build the city's first tiny home hotel.
If you're mostly interested in going tiny to reduce your carbon footprint, then Tiny SMART House is a great choice. This Oregon-based company uses the acronym SMART to describe its design ethos: sustainable construction, modern efficiency, affordable luxury, Residential, RV, or commercial, and Towable anywhere.
Founded in 2012, they now offer a whole range of tiny homes, from the eco-friendly and elegant California Cabin (prices starting at $52,475) to the larger Mount Hood Lodge (prices starting at $53,975). These tiny homes are designed to withstand all weather conditions as well as transportation via highways.
Tiny house builders
Did we miss your favorite builder? Please comment below and let us know! Also, remember we have a growing number of builders you can search for in our tiny house builder directory.