Charles Finn, who builds 96-square-foot microcabins with reclaimed lumber near Missoula, Montana, approaches each build like a commissioned art piece. He cites Henry David Thoreau as a primary inspiration, and like the author, he spent some time searching for his purpose as he developed his unique approach to construction. He traveled through Japan as a young man, where he picked up on Taoism's emphasis on simplicity, spontaneity, and the concept of wu wei. Upon his return he spent time in Bend, Oregon and Missoula, Montana, where learned how to deconstruct and rebuild cabins. From each one of these places and combined experiences emerged the skills and guiding philosophy that he brings to each project.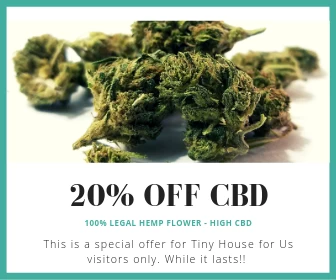 The Potomac, shown below, is one of his designs that has become a staple in his portfolio.
The same guiding philosophy of wu wei that goes into his building approach also led Finn into the business; it was a gradual and natural process rather than a grand plan. After returning to North America he spent a decade in British Columbia during which he drifted into ever-smaller houses, eventually settling in an 84-square-foot hay wagon converted into a residence by a friend. After sitting down at a table with a six-pack of Moose Drool (a local Big Sky brew), a pencil, and sheet of paper, he designed his first tiny house.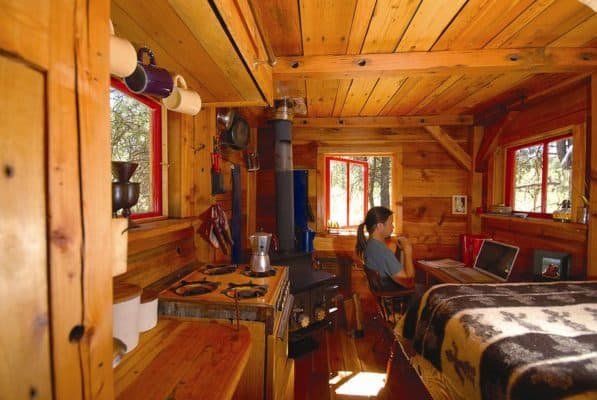 "In Japan, I liked the sparseness of the rooms, too – the aesthetic of less. It would color my thinking for years, and continues to do so."
At the time he was house-sitting for someone who had a business tearing down old barns. The owner let him take all the lumber he needed. Finn moved into that one himself, liked it, and thought other people might too. The microcabin he built on spec the next year sold to the first person who saw it. The buyer commissioned another one at the same time, and Finn was in business.
"Far from feeling claustrophobic, as might be expected in such a tiny place, I felt expansive, that I could breathe better and more fully, think more clearly, and that I was somehow living better too"
To this day he hasn't lost his laissez-faire attitude. He'll try to get what you want into the cabin you order, but says that it's best to look at it as a work of art rather than something built to match a blueprint. In fact, due to the uncertain supply of reclaimed materials, Finn allows that he doesn't start with more than a general idea of what a cabin's going to look like when he's finished.
He's clear on one thing: They all look good. Shown below is another example that was commissioned by a client, aptly named "The Blue Room".
Pictured below is "Lori's Shed" which she bought after meeting Finn at a local market. She wanted a room of her own, where she could read, sew, enjoy a cup of tea with friends and work on her own craft projects.
Like Thoreau himself, Finn is something of a polymath, dabbling in all sorts of other activities as he explores all that life has to offer. When he's not building tiny houses, he's the editor of the literary magazine High Desert Journal and a freelance author whose works include the book Wild Delicate Seconds: 29 Wildlife Encounters and innumerable magazine and newspaper articles.