All around the country, and the world for that matter, people are making plans to build their own tiny home. Not everyone has experience though, and while a good many first-timers feel confident tackling a project like building their own home, many others need some guidance to get their vision built. In an era where large construction firms roll through suburban neighborhoods, erecting cookie-cutter mini mansions on every corner it's nice to see small family run businesses like Wishbone operating with a simple goal in mind – to bring the dream of modest home ownership to Americans all around.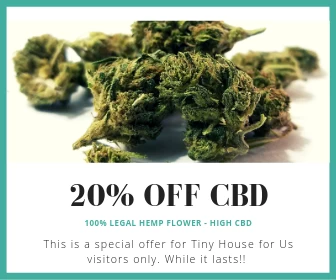 Asheville, NC, contractor Wishbone Tiny Homes has been building tiny houses since the turn of the century, and its owners Gerry (the father) and Teal (the son) started working together two decades before that. They're targeting the environmental and economic demands of "next generation home buyers" with some great looking and very affordable homes from $25,000.
Gerry's background includes a design-and-management role with a national timber-frame home builder and fifteen years as a custom woodworker. Teal obviously hasn't been around quite as long, but despite his youth he's a skilled cabinetmaker and an expert in energy efficiency, solar power, and sustainability. Together they bring a skilled approach to building these special little homes. In the image below you'll notice the cast glass circle set in the handmade door. This was made by their mother, a skilled clay and glass sculptor who occasionally works with them to deliver special little touches. It is this attention to detail that makes Wishbone such a special building company.
Wishbone's first tiny house was a 400-square-foot cottage which has been used as a primary residence, wedding site, and rental. They still build some more traditional small homes of around 1,000 square feet, but nowadays most of their work is on wheeled tiny houses between 150 and 200 square feet.