Students at Stockholm-based Full Scale Studio, part of the KTH School of Architecture, recently completed this simple yet interesting build combining the traditional "Friggebod" and "Attefallshus" styles, two building types in their country that do not require permits. We would describe them as modular vacation homes here in the US. The home is divided into two parts, with the smaller one on rails so it can easily move and detach from the larger portion. The students worked together to build the home on a shoestring budget, using upcycled materials and plenty of creativity.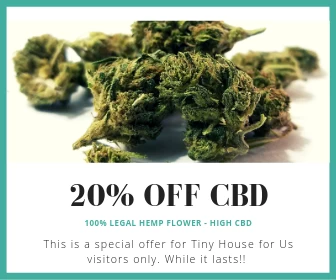 The main living space is 270 square feet, and was built with Swedish pine tree plywood which brings a raw, unfinished look to the inside. They used reclaimed mahogany wood for the floor, salvaged from an old factory before it was torn down. The floor includes hidden hatches that lift to reveal storage space beneath.
Simple pine plywood tables are hinged to the inside of the windows, and the students built the window frames from the same mahogany wood. Meanwhile, the exterior shows off a burnt wood cladding which makes it weather resistant without using paint or chemicals.
The movable portion of the home, or the "Frigg" as it's called, was designed to be lightweight and uses homemade "SIPS" panels, with pine plywood glued to styrofoam insulation. They treated the exterior of this surface with tar, which is also naturally weather resistant, though they admit smells quite strong. The floor was made with black leather that was gifted to the students, and the entire structure sits on a flat metal rail and wheels, making it possible to move with one or two people.
The movable portion allows them to create an outdoor patio where they can enjoy the sun and give lectures. They also built a transparent staircase at the end, which leads to the roof terrace. Technically in Sweden if a structure is at least 50% transparent, it does not require a permit – yet another tricky way they were able to get around legalities.
Images Courtesy of Full Scale Studio
The total cost for the project came in at around $15,000 which isn't too bad – although that doesn't account for labor, and they benefitted from donated materials. To learn more about the project, visit the Full Scale Studio website.