As the tiny house movement grows, new builders have begun sprouting up all over the place, catering to a growing demand from consumers. One of the more interesting ones we recently came across is Full Moon Shelters, based out of Nova Scotia. They certainly bring a unique look and feel to their homes, which display great craftsmanship and style. Currently they feature two designs, the "Bird House" which is slightly smaller and the "Harmony House" shown below.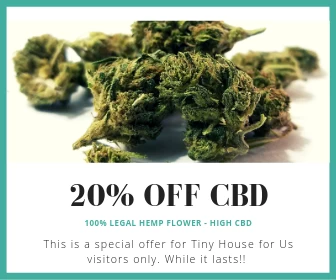 Below you can find images from their Harmony House, which is built on a 20′ trailer with a 3′ extension.
I love the stylish Danish wood stove, the shingles that will eventually weather to a light gray, and the built-ins above the kitchen space. You can tell they put an emphasis on higher-end design elements, like the faucets and the sink in the bathroom. Like any tiny house build however, the customer can customize and tweak the design elements to their own likes. The Harmony House definitely brings its own unique look, from the slanted roof that makes room for the loft to the extended area that houses the bathroom.
Prices range from 25k-50k or more depending on how well equipped the house is. Their blog includes super detailed profiles of each stage of the build and I recommend checking it out to learn more about their approach.