One attraction of tiny houses is that, being smaller, they're less expensive than standard-sized homes of comparable quality. So when you learn that Oregon builder Tiny Heirloom's models start at $65,000 and top out at as much as 300 grand, you know they must be pretty special.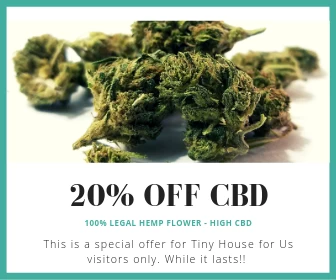 The company is positioning itself as the "first luxury tiny home manufacturer" in the country, and has dedicated itself to uncompromising quality in design, materials and construction without losing focus on the more traditional benefits of tiny houses such as mobility and energy efficiency.
Even the most basic Tiny Heirloom models feature wooden exteriors, floors, and cabinets painted or stained to order; granite counter tops; stainless steel appliances; a Haier 1-cubic-foot portable washer/dryer; and a 5,500 BTU Newport P-12000 propane fireplace from Dickinson Marine. There's also a home automation system that keeps track of energy consumption and can turn on lights, unlock the door or adjust the temperature in response to a voice commands. The built-in hi-fi audio system can play music in surround sound from a smart phone via Bluetooth.
Electricity and plumbing are both well provided for. All Tiny Heirloom homes include highly efficient solar panels and both 12 and 110 volt electrical systems that give the flexibility for living on- or off-grid. For waste disposal, the houses are completely self-contained; some have composting toilets, while other models feature an RV-style black water holding tank.
Speaking of RVs, Tiny Heirloom's houses technically qualify as travel trailers, so they're completely street legal and will be accepted at RV parks everywhere. Their status means that owning one doesn't involve any property tax payments, and also makes possible Tiny Heirloom's offer of free delivery to anywhere in the United States.
It generally takes three to four months to build a Tiny Heirloom house, and the company promises to deliver each one "On-time and In-Budget". They realize that the cost of their houses makes financing a concern for a lot of people, so they've arranged with a local bank for 15-year loans at 5% interest with zero down payment. For the least expensive Tiny Heirloom, that works out to a relatively affordable $450 monthly payment.
We do have to wonder about the overall viability of the high-end market for tiny houses. Affordability has always been one of the hallmarks that define the movement and at $65k these are not cheap by an definition of the word. I have to imagine it wouldn't be a stretch for a potential buyer to spend a bit more and get a small home if they're considering spending that sort of money. While we do see a good many projects built on a DIY basis for $10k or less, that's not the norm. Considering the average tiny house costs around $22k, they're positioned in a unique tier of the industry that other builders haven't approached. We'll have to see how this endeavor shapes up down the road.
About Tiny Heirloom
Tiny Heirloom is run by three husband-and-wife pairs: Tyson and Michelle Spiess, Jason and Brianna Francis, and Zach and Hannah Francis. Tyson founded the company and oversees business operations and the home automation system, while Michelle's responsibilities include customer service, marketing and design. Jason, who has years of home building experience, is in charge of construction. A licensed real-estate agent, Brianna also works with customers and coordinates internal matters like scheduling and logistics. Zach handles the financial side of things, making sure there are no cost overruns, and Hannah focuses on interior design and sourcing local materials.
It's a great group of people making great tiny houses, and you can contact them via their website, by email at [email protected], or by phone at (503) 756-7768. They like phone calls best because they're eager to talk about their houses, and they promise to get back to you within a couple of hours if they can't pick up right away.