Despite the name, this builder is not located in warm and sunny Jamaica. They're a bit further from the equator actually, stationed in the beautiful wooded state of Vermont, where there's not a beach in sight and the ground is probably still thawing out. That's good because it means they have easy access to wood and plenty of time to work instead of lounging on the beach sipping Pina Coladas. Plus you don't need to worry about shipping a cottage back to the states on a boat.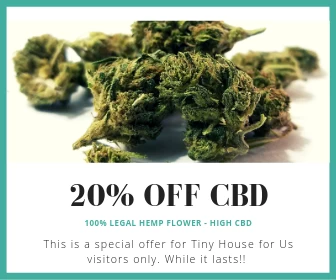 They've been making some very stylish post and beam timber frame storage sheds for years now, and we've featured some of their past projects, like the writer's shed. Lately they've added some additional tiny homes and cottages to their lineup, such as the one you see below.
This 8′ x 16′ home sports a unique design and is ready for off-the-grid living. It comes with a composting toilet, solar power, hot water, a shower, and at 7,200 lbs. it won't be too scary to tow, even for a novice driver. Let's step inside, shall we?
For those of you who'd rather build your own tiny home, they also sell plans, and you can work with them to get a semi-finished shell if you want to tackle the finishing touches. While we aren't sure what this one costs, it's worth noting their prices on other models seem more than fair given the quality, and most of their fully built cabins cost between $13,000 and $20,000 – not bad at all!
Check out their website http://jamaicacottageshop.com/ to see more of their work, and if you sign up for their newsletter you'll get a free set of plans. And be sure to follow them on Facebook to stay updated with all their latest builds.