With a rise in support and interest for tiny house living comes a growing demand from builders to deliver a fair mix of affordability and design aesthetic. Austin, Texas, company Kanga Room Systems doesn't really position itself as a tiny house builder yet they attract a lot of interest from tiny house fans. It's not hard to see why either. They call their prefabricated wooden structures "stand-alone outdoor rooms" and market them primarily to folks who need extra space but don't want the remodeling hassle of adding it to an existing house. With a staff culled from engineering, industrial and construction backgrounds, they have created a nice range of different sized homes with broad appeal.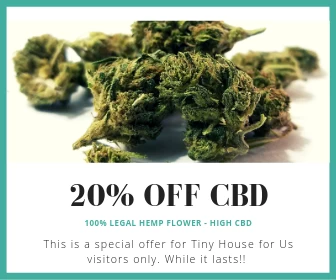 Shown below is the 16′ x 26 cottage with loft.
Here's a 14′ x 14′ studio in a backyard, built for a craft space and a room for the kids to play.
And the view from the inside…
Downsizing is an idea whose time has come, and in an apparent case of convergent evolution, a lot of the models Kanga offers look a lot like the tiny houses we know and love. They have a number of different plans available, but those can be broadly divided into two types: cottage cabins of greater than 400 square feet and smaller studio units in the sub-200-square-foot range.
The cottage you see here comes in at 416 square feet, and it makes the area feel big with a full kitchen and bathroom, laundry area, and a good-sized living room. Surprisingly, it's actually a two-bedroom house – there's an enclosed master bedroom on the main floor and a loft sleeping area upstairs. The floor plan and interior design exude style too; with the exposed beams inside and the sitting porch just out the door, the cabin reminds us of a charming 100-year-old farmhouse. (Presumably with better insulation and less draftiness!)
As well as being smaller, the 196-square-foot studio in the above photos is much simpler. It's also nicely done, but there's basically nothing inside the walls, and no plumbing. Kanga suggests using it as a quiet home office or art studio, but we have to imagine that with a few modifications it would make a great place to live full time.
Below you can see the interior of a 16′ x 30′ cabin they built.
You'll have to get in touch with Kanga for exact pricing information – besides all the different models, there are quite a few options for each, and cost also depends on where the building will be located and how many inspections and permits are necessary. They offer plenty of information on their website about the different models, sizes, additions, and so forth. For reference, though, the cottage in the pictures was around $70,000.
This 12'x14′ modern studio would make a great place for a secluded backyard office, a mini-vacation getaway, or just a simple place to call home.
And here's the same modern cottage with a slightly modified exterior.
Here's a modern styled cabin, 14′ x 20′, with a breezeway connecting the two living areas.
To give you an idea of what these cottages when built, here are some estimates:
14×20 Cottage, 280sf, $50k fully built
14×24 cottage, 336sf, $60k fully built
16×34 cottage, 544sf, $70k+