The Vagavond, also known as the Orange House, seems to have been the first and so far only tiny house from Andrew Gielczyk, founder of Michigan home building and remodeling outfit Wood & Saw. This stylish little trailer tiny house was built with all sorts of eco-consciousness in mind. Priced at $49-70k it wasn't the cheapest, but certainly not the most expensive either, and the construction details justified a fair portion of that price. For those who simply wanted plans to build the shell, and design the floor plan themselves, Andrew offered a very thorough set of DIY plans for a great price.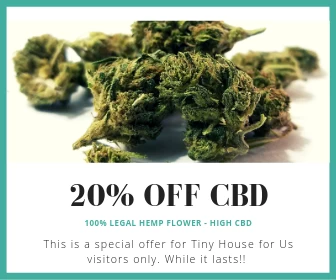 Let's take a closer look at this mini-masterpiece. (Excuse the fisheye photos – it seems that with tiny houses, fish eye lens photos help accentuate the size.)
Now, I'm not sure about how much power that giant flat screen TV will draw, but personally I'm OK with it assuming I can get the Giants playoff games from wherever I have this thing planted. You might not feel the same but the good news is, you can put a painting there instead or just enjoy that yakisugi wood.
The sleeping area does appear a bit cramped, but then again that's the case with most lofts in tiny homes. Perhaps a bit of design adjustments could add another few inches of headroom.
A charred yakisugi cedar exterior styled after traditional Japanese architecture marks a stylistic aspect of the exterior of the Orange House. It's coated multiple times with tung oil and they claim it's very fire resistant.
From what we can see here the floor plan seems to be thoughtfully laid out, with a spacious fridge, sleek two-burner range with venting hood, and a bathroom where you can clean up and do your business.