Of all the new tiny house builders emerging, Sprout seems to have one of the more promising designs we've come across. They have a few different models, including a traditional wood style tiny house on wheels along with the Waterhaus, shown here. At 493 square feet, it could be a great choice for those who want a bit more space than a typical 200 square foot tiny house on wheels. They market their brand as using "chemical free" building materials, and they focus on sustainable development in every aspect, even offering interior furnishings made from 100% organic cotton, bamboo, and hemp.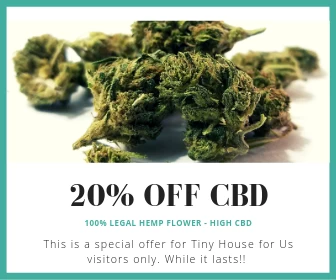 The Waterhaus 34 is currently in production in their factory in La Junta Colorado. If you happen to live nearby, they seem happy to have you stop by the warehouse to take a look. In fact, they offer a "build your own" option where you can take part in the construction of your own tiny house in their warehouse using things like their "wall building template". They also promise an innovative new service that will help design your tiny house in a completely new way, although their website says "It is so innovative, we have decided to not show it on our website. Call us for details." We'll just have to wait and see what they have up their sleeve.
Once complete, the 34′ long modular home will be available for purchase. Although we don't have a price estimate for this particular model, using the $150-200 per square foot cost estimate would put these at around $75,000.
For more information visit http://sprouttinyhomes.com/ or follow them on Facebook