Robin Hood's Hideout is the first of a dozen planned cabins at Havenwald, a 6-acre glamping site set among a cedar-and-live-oak forest in the Texas Hill Country southwest of Austin. It's not, however, the first cottage that owners Michelle Ashley and Andy Slater have hand-built from salvaged vintage materials. After building a few for other people, though, they realized that they were missing their unique creations too much to keep on selling them. Easy enough to see why, because this is a gorgeous little house! Robin Hood's Hideout is $120 a night and five-star rated on Airbnb.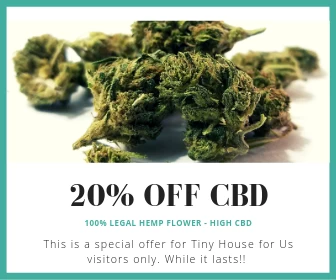 The cedar shingle roof of the sub-300-square-foot cottage is peaked to provide extra headroom in the loft.
The stained glass windows above the large, plush couch were imported from England.
In the kitchen, sunlight shines through diamond casement windows onto vintage walnut counter tops and a big oak gate-leg table.
The full-size circular staircase, complete with a natural cedar guardrail, makes it easy to get to the loft.
The bathroom holds a flush toilet, a copper sink, and a double-size river rock shower.
The green wash for the antique beaded board wall is a mixture of earth pigments and tung oil.
The queen bed rests in a custom cedar frame under a ceiling of salvaged cedar logs.
You can watch the sunrise and feel the cool Hill Country breezes through five stained glass windows.