This 180-square-foot gypsy wagon style trailer house makes great use of space on a single level. Sure, it has one of the smaller kitchen areas we've seen in a tiny house of its size, but it makes up for that with a relatively spacious modern bathroom and a bed that you don't have to climb a ladder to get to. The colorful exterior, wide porch, and attractive wood inside give it a very comfortable appearance, and the fact that it has complete plumbing and electrical systems makes it even more home-like. This would be perfect for someone who doesn't do much cooking and wants a mobile tiny house that feels very much like a traditional home.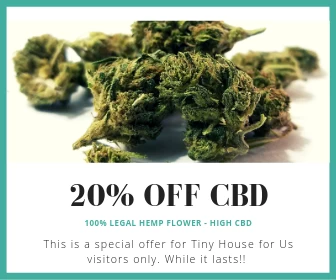 There's a lot of room to move around, and everything's easily accessible.
From this view looking out the big french doors you'd swear you were in the bedroom of a much larger house.
It wouldn't do for a serious chef, but the kitchen is big enough to cook breakfast or make a sandwich.
The full bathroom is well outfitted too, with a nice shower and flush toilet.
This simple and stylish little home has all the right ingredients and shows off the sort of high quality construction any craftsman could appreciate. With everything on one floor there's no need to climb a ladder or stairs to squeeze into a sleeping loft, something older folks and disabled people can benefit from.