Owner Tony worked closely with Michelle Wilson of Hornby Island Caravans on the design of his gypsy-style cabin. Much of its visual appeal comes from the variety of contrasting woods: cedar for the shake siding, dark bamboo for the floor, knotty pine for the walls and ceiling, birch for the cabinets, fir for the countertops, and driftwood for the shelf supports.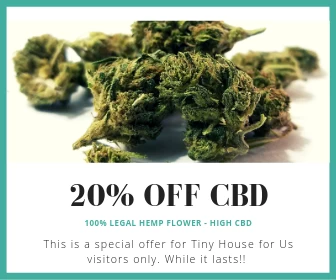 The 250-square-foot home is on a trailer but semi-permanently installed next to a deck and an outhouse which contains the bathroom facilities and a washer/dryer combo. If you aren't moving your tiny home very much, an outhouse makes for a nice alternative to shoehorning a cramped bathroom into a place where there's really no room for it.
The caravan is warmed by a Jøtul woodstove, and a small on-demand heater in the bench next to the kitchen sink provides hot water for washing dishes. There's no loft, but the bed is high enough that Michelle installed a couple of steps for easier access; the storage space underneath is designed to hold Tony's many musical instruments.