Hobbit-themed tiny houses aren't exactly thin on the ground, but most of them are actually under the ground, and most of them tend to be pretty high end. The Tiny Hobbit House on Wheels from Incredible Tiny Homes is neither; it's a 170-square-foot THOW, and it costs just $32,500 base to buy one. Head to Incredible's website for inquiries and to see pictures of a nice custom build. Alternatively, you can pay $169 a night to stay in the one shown below at the WeeCasa tiny house hotel in the Boulder, Colorado, area.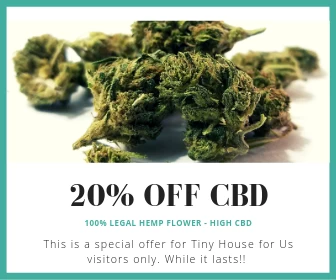 A round door and windows set into cedar shake siding lend authenticity to the outside – although we could have done without the faux ivy hanging from the roof!
The sofa in the cozy living room offers a good view out the porthole window, and can transform into a bed at night.
The basic kitchen includes a four-burner stove, microwave, and refrigerator.
Natural details on the stair rail continue all the way across the loft. You can see a glimpse of the bathroom below it.
h/t Tiny House Town