Much as we love tiny houses, it's hard to resist a nice houseboat, and the dimensions of Le Koroc make it particularly apt for inclusion here: Since it's 8.5 feet wide, just like a standard THOW, it's basically 13 feet worth of tiny house built on the back of 26 feet worth of pontoon boat. Despite the circa 100-square-foot interior that entails, it's a pretty complete tiny house, too, with a serviceable galley kitchen, a nifty dining booth/bed combo, and a bathroom that not only has a toilet and shower but even its own sink! The spacious deck in front holds the navigational console and outdoor seating, and can be customized with options such as a fish tank or a barbecue grill. Appearance-wise, Le Koroc is no Water Woody (at least from the outside; the interior actually comes within spitting distance of Kerry Elwood's masterpieces), but it's still a nice-looking boat with lots of pretty white cedar everywhere you look. It's built in Quebec by Daigno and sells for $79,999 Canadian ($60,000 US) with an extensive list of standard equipment.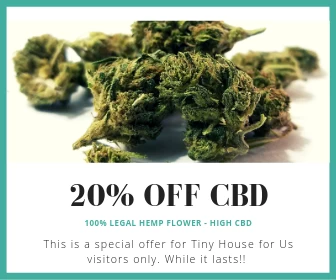 The 265-watt solar panel on the roof serves the lights and refrigerator, while two serial 6-volt batteries provide backup power.
The deck railing is supported by cross-laminated white cedar posts and includes an ichthys design.
The 90-horsepower outboard motor is standard; an electric motor is available as an option.
The deck layout will vary depending on the options selected. The Weber Q 2000 barbecue seems like a fun one!
See anything fishy about these photos? Yes, it's actually only the ceiling that curves – but at least you can see everything at once this way.
There are two options for dining, and the booth is also an option for bedtime.
Kitchen amenities include a 4.5-cubic-foot Nova Kool refrigerator and a two-burner Suburban propane stove.
The shower and sink draw fresh water from a 56-liter (15-gallon) tank and give it to you hot or cold.
The toilet can be chemical, composting, or bio-litter.
h/t Tiny House Talk