If you're like most of us, the closest you got to having a treehouse of your own involved liberating some plywood from a nearby construction site and slapping together a rickety platform with 2x4s that no structural engineer would feel safe setting foot upon. At best, the end result was something more akin to a hunting platform than an actual house. Maybe you were a bit luckier, and you had a legit treehouse when you were a kid. You probably miss it; if you didn't have one, you probably feel you missed out. Well, you can't go back in time, but you can still have a treehouse – and you can have something a lot more elaborate than what your dad would have built for you. Let's take a brief look at a few of our favorite tricked-out treehouses.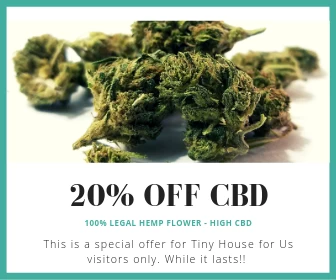 1. Vail Treehouse
Building a great treehouse involves a certain amount of architectural ingenuity and creative approach toward building. The first one is a guest cabin with a twist, quite literally as it's only accessible via a spiral staircase. The Denver area treehouse was created by Missy Brown Design and includes everything you'd find in a conventional guesthouse as well as rooftop deck with a view you'd never get in a ground-level place.
This one features a spectacular design, and even has a small porch area extending off one side, where guests can enjoy morning coffee and soak in the surroundings from a unique perspective.
2. Cliffhanging Treehouse
Then there's this nifty cliffhanging treehouse designed in Germany (by baumraum) and suspended among the maple trees of New York's Hudson River valley. Half of it's attached to an oak tree by steel cables; the other end is supported by stilts standing on the rock cliff.
3. Treehouse Point
Before building a treehouse of your own you might want to try a few on for size, and if you're anywhere near Issaquah, Washington, you can do just that at Treehouse Point. They have a variety of treehouses in different styles available for rent – go back several times and decide on your favorite. They even have treehouse building workshops that will give you a big leg up when you're ready to start construction.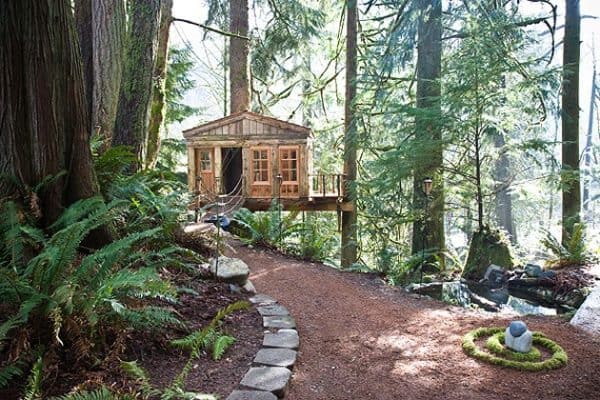 4. A Fabulous Victorian Treehouse
If everyone had grandparents like this, the world would be a better place, and certainly more fun at the very least. This Dallas, TX couple went all out, building an incredible treehouse that's like something out of a Disney amusement park. Only, this was built in their backyard for their grandchildren.
5. La Cabane
We showed you this incredible treehouse for rent in a previous post, and it remains one of our favorites. The giant curved glass windows make for a great spot to lay at night and watch the stars above, or relax during the day with a book and some great views.
6. Bower House Eco Cabins
These sleek off-grid escapes are made using cutting edge technology, and are actually assembled or "printed" as they say off-site. They use locally-sourced and sustainably harvested wood and incorporate plenty of low energy solutions like composting toilets and sheep's wool insulation.
7. The Cinder Cone Getaway
One of our favorites on the list is also one of the most impressive. Known as the "Cinder Cone", this treetop escape has it all – a hot tub, magnificent views, and a multitude of cozy nooks to hang out. As an added bonus, there's a concrete skate park on the ground level.
There are plenty more tree houses out there, so be sure to check out these other incredible examples.