Living small doesn't mean you're stuck on the ground. Tiny home floor plans are increasing to include two-story living spaces. This blog post provides some basic guidelines for building your two-story home, and examples of some of our favorite multi-floor homes.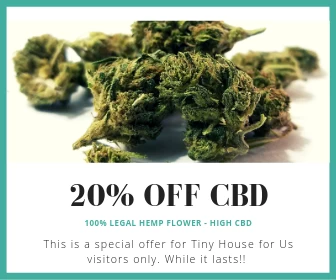 A Guide to Two-Story Tiny Homes
Two-story tiny homes can be made of a variety of materials, but the most common homes are built from two shipping containers. Shipping containers are strong and sturdy, and therefore a natural choice when building a second story. However, there are cabins, A-frames, and the occasional roundhouse.
Constructing a one-story tiny home can be tricky with local laws and regulations, so you must pay particular attention to building codes and zoning laws when creating your two-story tiny home.
Rules regarding tiny homes vary per state, but the below are generally common laws across all fifty states:
A one-story tiny home must have a minimum ceiling height of 6ft 8 inches. For a two-story home with a loft, the loft must be located more than 30 inches above the main floor and have a ceiling height less than 6ft 8 inches.
A permanent ladder or stairs is required for loft access.
A full bathroom must have a ceiling height equal to or greater than 6ft. 4 inches.
At least one window that can be used as an emergency exit.
These are some basic rules of thumb, but be sure to check in with local officials to ensure your home's compliance.
Let's take a look at some beautiful two-story home floorplans below.
5 Beautiful Examples of Two-Story Tiny Homes
The options for two-story tiny homes are truly endless. Below you'll find examples of the overwhelmingly popular shipping container style, A-frame, and cabin homes.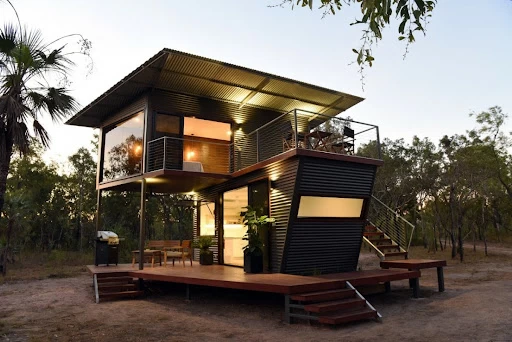 Modern Dream
The double-decker shipping container house from Litchfield, Australia is one of our favorites. Like many two-story container homes, the Modern Dream uses a "staggered" approach. The staggered approach is when the two containers are perpendicular to one another, and therefore create a beautiful covered deck and second-floor patio as shown above.
The inside of the home embraces an open floor plan. In the kitchen, you'll notice that the refrigerator and freezer are in a compartment specifically designed for them within the wall. This keeps the appliances from taking up any valuable real estate. The shower in the bathroom acts similarly with a glass wall serving as a divider – which is both practical and stylish. The living room opens up to the first-floor deck. The upstairs bedroom has a sliding door that provides access to the second-floor patio, which is simply the roof of the first-floor container.
Tailored Tiny
Another home from "Down Under" is this 241 square-foot shipping container called "Tailored Tiny". This home was built in a forest that had been previously ravaged by wildfires a few years before. Due to the uncertain nature of Australia's extreme conditions, the two-story home, except for the deck, is created to be easily transported. To create the illusion of additional space, the home has a skylight that runs the entire length of the container. The second-floor bedroom is an open loft-style, which means you can still talk to the person sitting in the bedroom from the kitchen. To save space, many of the essential appliances are built into the staircase. While not part of the original floorplan, the owners of this house built a spacious deck and an enclosed back "catio" for their furry friend.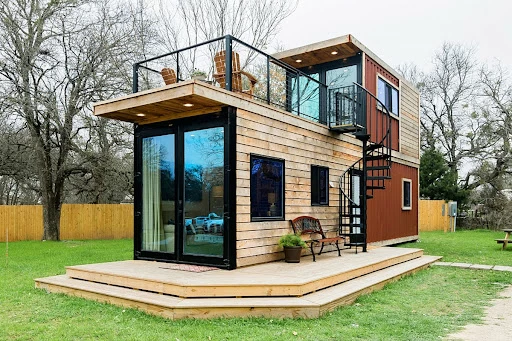 The Helm
Six people can sleep comfortably in this 480 square-foot home. Like the above home, it is tow-friendly for easy transport. Created from two shipping containers, the home offers two bedrooms, a full kitchen, restroom, dining room, and living room that can fit a queen air mattress. The bottom container measures 40 ft in length and provides a 140-square-foot upper deck. The upper deck, accessed from either the upstairs bedroom or outdoor spiral staircase is a desirable perk for hosting guests at this tiny home.
The interior of the home boasts stunning 100-year-old aged barn wood and fashionable tile in the restroom. This home truly masters finding space in a small home.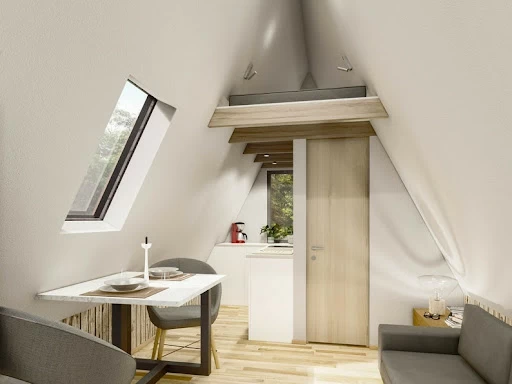 A-Frame Cabin
Believe it or not, this 282 square-foot A-frame cabin is actually two stories. Unlike the above shipping containers, this floor plan utilizes a steep pitch to protect it from snow build-up, prevents leaks, and is a strong choice for withstanding high winds.
One of the perks of this home is that it is relatively inexpensive to build compared to other two-story homes, and requires less construction experience than others if you're hoping to build it yourself.
The floorplan offers a small kitchen area, bathroom, and combined living and dining area on the first floor. The second floor hosts the loft-style bedroom.
If you're looking for a simple and inexpensive two-story home – this A-frame may be for you!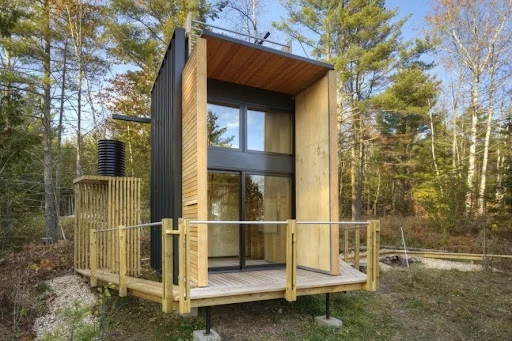 The Nest
We love this beautiful two-story cabin designed by a father and son duo. The 325 square-foot home utilizes sustainable technology such as solar lanterns and rainwater collection to minimize its impact on the earth. To keep costs low, this home is built upon eight concrete poles rather than a full perimeter foundation. The bottom floor is a multi-functional space and includes a Murphy bed. When you climb the ladder to the second floor, you'll find additional living space and access to a rooftop observatory and deck. The floor plan is simple and allows for creative liberties by the owner in regards to kitchen and restroom design.
As you can see building a two-story home is entirely possible, and there are flexible home options to match your needs and desires. Whether you follow the trend with staggered shipping containers or master a log cabin, be sure to talk with local officials to make certain that your home is safe, and follows the rules and regulations of your city and state. With that said, we know you're going to create something awesome!