A warm cup of coffee, a slight chill as you're cozied up in a blanket on your porch. Maybe you're looking at some mountains or a dense forest while you sit on your deck.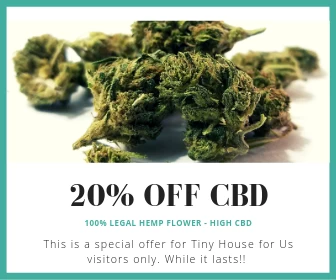 There is something romantic about this life, and you can't help but daydream of owning a rustic home in the countryside. If this picture sounds ideal to you, then you may want to consider investing in a rustic-style tiny home. Plenty of tiny homes are designed with the rustic aesthetic in mind, but still provide the comforts of modern-day living. Take a look at these 8 fabulous tiny homes that are both beautiful and functional in the modern world.
Napa Tiny Home on Wheels
Canadian studio, Mint Tiny House Company, has perfected the art of rustic tiny home designs. This mobile home perfectly intertwines tiny living with style. What's most impressive is the home's attention to detail and dedication to aesthetics. The ceilings are a soaring 10-feet high, and natural light pours in through the numerous windows. The exterior is beautifully designed with cedar cladding and a metal roof.
The home is available in two sizes – 237-square-feet and 267-square feet. Both sizes include a full kitchen, full-sized shower, flushable toilet, living space, and a loft bedroom. The bedroom includes a skylight so you can fall asleep under the stars!
Rustic Farmhouse
This rustic farmhouse is on a whole other level of functionality – it boasts three stories of living space! The main floor is the kitchen, restroom, and main bedroom. Climb up the pictured ladder and you reach the middle floor that can be used as a second bedroom or additional living and storage space. Climb up again to the third floor and you reach the rooftop deck, fully equipped with a bar table. Sitting between the two pitches of the roof, this outdoor seating area is a perfect way to host guests and enjoy the surrounding views. It's quite the unique deck design!
A Modern Rustic Oasis
We love a tiny home with a bathtub – and this modern (yet rustic) home has a four-foot-long tub! The home is 32 feet long and offers 320-square-feet of space. Its kitchen is crested beautifully by oak countertops and equipped with a gas range. The space is uniquely styled with a multi-color hardwood floor, and fits all of your essential appliances like an oven, refrigerator, and even a dedicated space for a washer and dryer in the bathroom.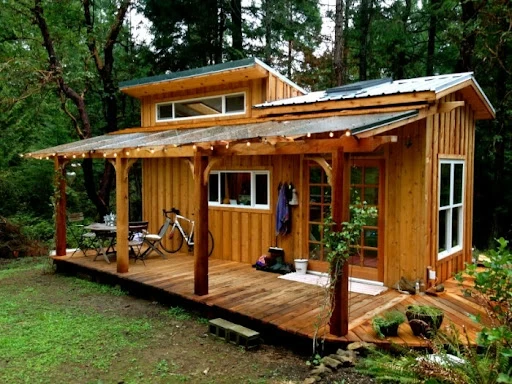 Mountain Log Cabin
If you're looking for a truly rustic mountain adventure – then you've come to the right place. This home is secluded in the Gulf Islands off of the coast of British Columbia, Canada.
While the home has running water, the toilet is outside. There is running water inside including a sink and a shower, so you don't have to worry about running inside with wet hair! You'll notice that the entry to the home is rather wide. This is to provoke a sense of continuity between the indoors and outdoor deck. The home has a kitchenette and beautiful spice shelf, as well as a skylight above the bedroom.
This home will get you away from the hustle and bustle of the world and strongly connect you with nature.
Rustic Container Cabin
You probably associate log cabins with a rustic design. However, shipping containers are one of the most popular styles of tiny homes. This 215 square-foot shipping container still managed to master the rustic aesthetic!
The home has two entryways that lead to the main living area and kitchenette. You'll find a sink, space for a refrigerator, restroom, and living space on the main floor. Climb up the stairs and you can hit the hay in the loft bedroom. You'll enjoy the functionality of a shipping container home, while feeling like you're in a log cabin!
The 1959 House – with a Treehouse!
This home was ahead of its time. It was built in 1959, way before tiny home living was popular! The home is 324 square feet and transports you to the past. The full restroom offers a beautiful claw-footed bathtub. While the interior space is intimate, it's done an excellent job of maximizing space for appliances. There is a kitchenette, wood-burning stove, living and sleeping space. The home's wrap-around porch almost doubles the size of the house and provides two sheds for storage. Are you planning on having guests? This home comes with a treehouse next door that with a little work can be a great place to host overnight visitors!
DIY Oregon Home
This Oregon home is a true "build it yourself" story. The owners of the home, Jenny and Michael, dreamt of building their own home for years. They achieved this dream by building their own tiny home out of reclaimed woods and other materials they had been saving for this purpose. See those kitchen drawers next to the sink? Those are created from vintage fruit crates they came across! The window frame was created with wood salvaged from an old horse farm, and their stove/sink was taken from a museum that wanted to get it off of their hands.
In addition to these creative touches, the home is extremely functional. There is a beautiful living space adjacent to the kitchen, as well as bar seating. The living room couch turns into a guest bed and upstairs is the master bedroom.
This home is truly a reminder that you likely have nearly everything you need to build your own tiny home already!
Two-Story Rustic Tiny Home
Family-owned tiny home designers, Tiny Sisters, created this darling home. Tiny Sisters creates houses with a "Modern Natural Edge" aesthetic. The exterior of the home is styled with functional cedar shingles, Breckenridge panels, and two-tone corrugated metal. The absence of an exterior paint job allows this home to be extremely low-maintenance with upkeep.
You'll notice a fold-down awning covering the 5" by 10" porch, leading you to a pair of desirable French doors. The interior has a kitchen with stainless steel appliances, farmhouse sink, bathroom, living space, and a loft bedroom with yet another luxurious skylight.
This home is easy to manage, and fantastic to live in!
As you can see, living that rustic lifestyle without giving up your modern appliances is entirely possible! Whether you're looking for a house like the Napa Tiny Home that could be considered an art piece or an adventurous DIY project, there is a design for you.