After spending five years in their 300-square-foot Beloved Cabin and founding the United Tiny House Association along the way, John and Fin Kernohan still had one tiny house box to check off: a THOW. Here it is, and it's as unique as its owners. The couple built Tiny Firehouse Station No. 9 in just five weeks (with help from Free Range Tiny Homes). It's apparently the first firehouse-themed tiny house ever, and as good as it looks the style isn't just skin-deep. Putnam County (Georgia) Fire Rescue Chief Shane E. Hill was a consultant on the build, and John and Fin are now on tour in the THOW doing fire safety education and fundraising.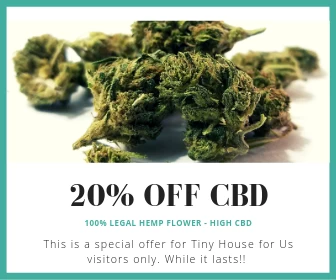 Tiny Firehouse Station No. 9 has several fire safety features other tiny house owners would do well to consider – three escape routes, a smoke/carbon monoxide detector, a readily accessible fire extinguisher – and it's decorated with memorabilia like hoses, helmets and parts from a scrapped fire truck. It's every bit as livable as a real fire station, too, with a kitchenette, bathroom, sleeping loft, and, of course, a vintage brass fire pole. (As Fin says the last item makes for super-quick nighttime bathroom trips, that might be something else to consider for your own THOW!)
The fire hydrant on front actually works – it's adjacent to the bathroom and connected to the plumbing.
A fire escape ladder leads down from the balcony, which is accessible from the loft.
Large French doors, windows, skylights and an open-plan interior make Station No. 9 a pleasantly airy place.
h/t Today