A beautiful summer day, sipping on a glass of white wine or a cold beer on the porch. These are the relaxing days we all daydream of. We've compiled a list of 8 beautifully designed tiny homes with decks that will inspire you to make this dream your reality. We have options for all sizes, lifestyles, and needs. Take a look and get inspired!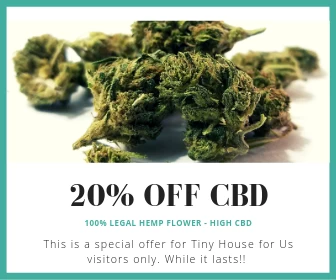 Basecamp – Rooftop Deck
This tiny home, affectionately known as the Basecamp, is a premier example of utilizing every inch of space and still looking beautiful. This 204 square-foot home was designed by two mountain climbers who were looking to live off the grid, and have room to store their gear. They created this stunning 2-story tiny home that offers a gorgeous deck on top of the second-floor roof. The deck is accessible through a "hobbit hole" in the upstairs bedroom. When utilizing the deck, the home's floor plan expands to 383 square feet. Many tiny homeowners choose to place solar panels on top rather than a deck, but this design allows for both a deck and solar panels on the remaining sloping area of the roof. Additionally, the home harvests rainwater and uses a composting toilet. There is a purpose for everything in this tiny home design!
The Draper – A Fold-Down Deck
Colorado couple Brian and Joni Buzarde wanted to create an outdoor space that looked classy and was easily transportable. Their tiny home is a 300 square-foot RV-style floor plan called The Draper. They are experienced tiny-home owners and designed this floor plan to include a foldable deck that appeared as an extension to the home, rather than a tack-on. The deck easily retracts and expands, and is accessible by sliding glass doors in the main living space of the home. In addition to the stunning hardwood deck, the home is complete with an intentionally separate mudroom. Brain and Joni learned from experience that the most peaceful tiny homes can separate spaces, no matter how small.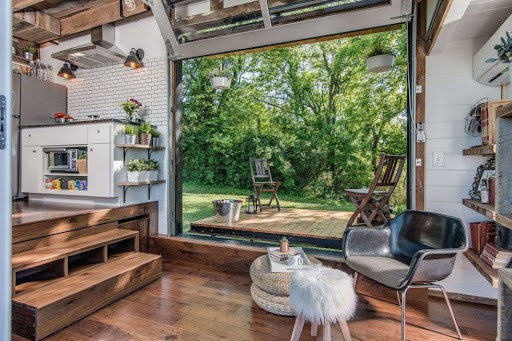 Alpha Tiny Home – Pop-Out Porch
The Alpha Tiny Home is incredibly modern and visually stunning. It even has a jacuzzi bathtub perfectly placed in the 200 square-feet home. Much like The Draper, the Alpha's porch folds down from the exterior to create a flat deck on the ground. However, if you want to keep the porch out overnight the design includes a trendy garage-style door to pull down and cover the space. The interior features a hardwood ceiling, fold-down cabinets, ample floor space, and a king-size loft.
Elsa – Greenhouse Deck & Pergola
As beautiful as the interior of this modern tiny home is, it's the exquisite greenhouse deck and pergola that enchant us. This 323 square-foot trailer offers a beautiful pergola for enjoying the day, and a greenhouse for growing your own fruits and vegetables. If you're looking to minimize your life and live off the land – this greenhouse deck is for you. In addition to its stunning outdoor space, the Elsa offers 14 windows that let the sunlight pour in. The interior has beautiful cherry-wood stairs that both provide storage space underneath and lead to a loft bedroom. The deck sits on its own trailer, so it is as easy to move as the entire home.
MiniMotives Tiny House – Micro-Deck
This tiny home has earned quite the reputation after being featured in TIME & Dwell Magazines. The entire space is 196 square feet and houses a couple, their two young children, and their Great Dane. The home sits on a gooseneck trailer and offers an intimate back deck. The home has strong insulation, having proven its worth surviving multiple Boise winters. The owners say the home only costs them $50 per month in utilities during wintertime and less than $10 in the summer. Talk about a money saver!
Pavilionaire – A Perfect Sunhouse
The Pavillonaire is a solid example of a simplistic way to add a deck to pretty much any stagnant home. This tiny home has the living space built upon a raised foundation. The roof then extends to create a terrace over an outdoor space. You can spice up the look, like the above owners did, by installing some simple outdoor walling, foliage, or furniture to separate the spaces. The designers of this 242 square-foot home found inspiration in the Finnish sauna. They incorporated simplicity and clarity into their design, which is demonstrated by the large windows and straightforward floor plan. This is a great option for tiny homeowners looking to stay in one place and want their deck built-in with their home. 
Canopy Can Do – A Great First DIY
This simple deck is a great option for getting your feet wet with a DIY deck. The home is built on an 8 X 20-foot trailer and offers about 140 square feet of living space. The exterior deck space is simple and requires basic woodworking skills. Unfortunately, this porch isn't as easily transportable as other decks on this list, but it is truly a great first run for tiny homeowners wanting to try their hands out on an easy DIY project. Simply grab some sanded wood, put up some poles, and tie up a canopy!
"La Arboleda" – Fancy Trailer Park Living
This trailer-style floor pan was built by Reclaimed Space, an organization that builds tiny homes with materials salvaged from old barns and homes on schedule to be demolished. The inside living space is 646 square feet and offers a beautiful full-length porch with a slight overhang for shade. This design offers the largest deck space of the properties listed in this blog. The porch shades the south-facing windows, but provides passive heat in the winter – saving on those pesky utility bills! The porch is absolutely perfect for expanding living space in the summertime for visiting guests.
We hope you found inspiration from these tiny homes with decks. We believe it is vital to create a space in your home where you can relax, and a deck is a great way to provide extra living space and the opportunity to connect with nature in tiny home living. No matter your tiny home style or size, there is an outdoor deck that can work with your home!