We all know that utilizing space well is of the essence with tiny home living. Depending on where we live, we may be particularly inclined to protect our valuables from being exposed to the elements. Keeping our vehicles safe from rough weather and potentially unwelcome visitors can be done with carefully designed tiny home garages.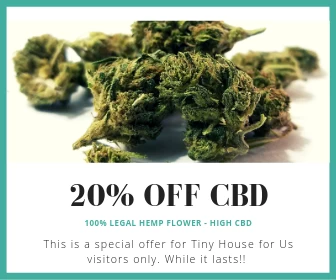 In addition to protecting your vehicles, tiny home garages can be a great resource for a tiny home's foundation, provide additional storage space, and double as a place to host guests. We've compiled 8 examples of our favorite tiny homes with garages to give you some guidance and inspiration for building your own tiny house garage.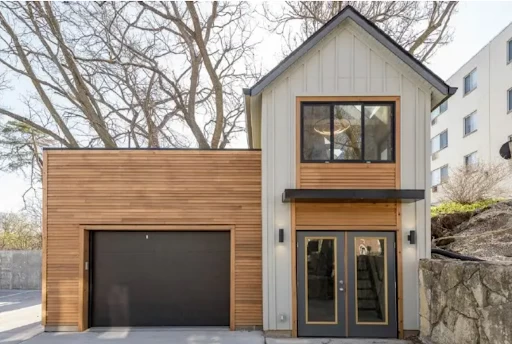 The Carriage House
The Carriage House is a beautifully designed home by Zenith Design + Build. While the addition of the garage may not be considered a "tiny space" the actual living space is on par with tiny home living. Its thin layout allows for a vertical approach. The bottom floor is your standard living space and kitchen. The upstairs bedroom contains a beautiful open floor plan and a stone fireplace. The adjacent garage means you can utilize the top of it as a deck, with easy access from the bedroom. This stunning floor plan allows you all the benefits of tiny house living, with a spacious garage and room to host guests outside. Plus – it's absolutely beautiful!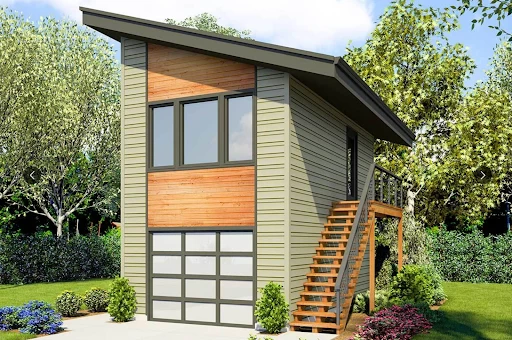 Contemporary Tiny Home Studio on Top of a One-Car Garage
This 366 sq. ft. studio is truly a work of art. Its high ceilings provoke a feeling of loft living. It provides all of the key amenities like a full bath, washer and dryer, and kitchen. The tall windows bring plenty of natural light to the second floor. Sitting upon a one-car garage, the home has space not only for a vehicle but for additional storage.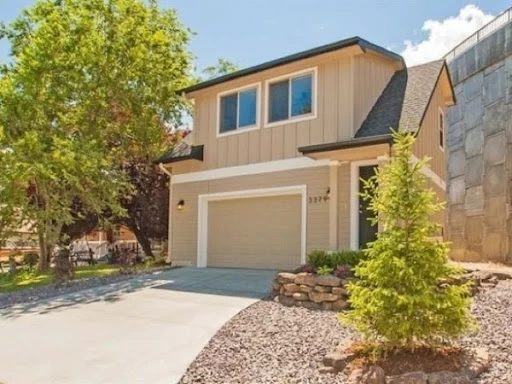 Tiny Home on Top of a 2-Car Garage
This delightful 474 sq. ft. tiny home in Boise, Idaho is built atop a two-car garage. Adjacent to the garage is the front entrance which leads you upstairs to the living space. The tiny home has a full kitchen, bedroom, built-in desk, and charming backyard. Building your home on top of a two-car garage is an efficient and stylish way to give yourself extra space and protect your vehicle. Even if you only have one car, a two-car garage is a great way to give your home a larger foundation and have storage outside of the living space.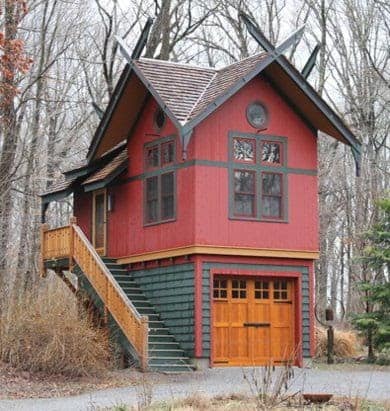 Tiny Home on Top of One-Car Garage
This wooden home sits directly on top of its one-car garage. Its one-floor layout uses tall ceilings to create the illusion of a larger space inside. Its layout is similar to the Contemporary Tiny Home Studio in both foundation and natural light but has a more traditional cottage feel. This design can feel like a true treehouse when built within forests.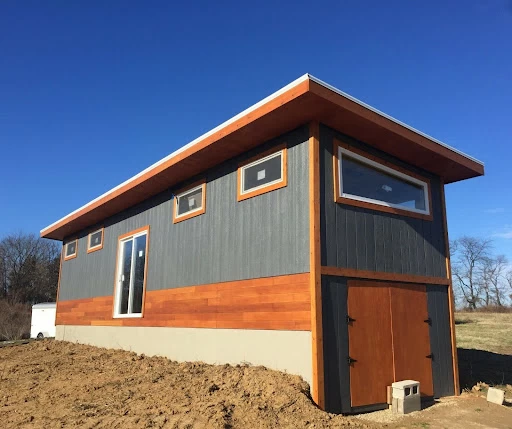 Tiny Home on Wheels
Take this 400 sq. ft home with you wherever you go! This tiny home can be picked up and moved. The living space is semi-flexible as it will require additional materials and earth to cover the wheels once it lands in their permanent residence. However, its built-in garage will be flush with the earth and make storing the truck that took you here as easy as driving it! Its design feels reminiscent of modern trailer living. If you don't like committing to one city, a tiny home on wheels may just be for you!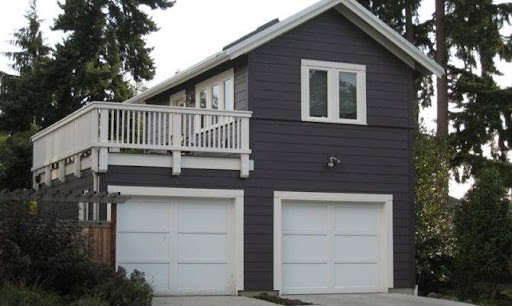 2-Car Garage with Deck
This 2-car garage with a deck tiny house layout is very similar to the above Carriage House. The main difference is that instead of a lower-level mudroom and entryway, you have a second garage. In terms of actual living space, however, the space between the two floorplans is quite similar. Like many of these homes, you can use one of the garages as a deck for hosting.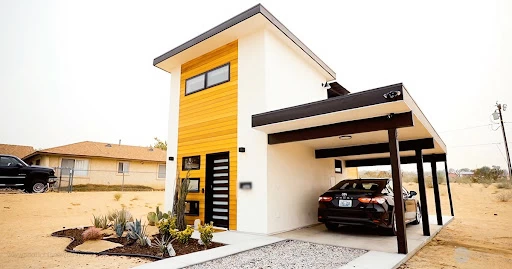 Open-Air Garage
Are you one of the lucky ones who find their home in a warmer climate? If so, you can consider an open-air garage! This 2-story 300 sq. ft. home is known as Casita Kuneho (little rabbit) in Joshua Tree, California. The top of the open-air garage doubles as a deck – which is the perfect place to view the sunset of the nearby national park. The only real downside of an open-air garage is the lack of protected storage space for items other than your vehicle.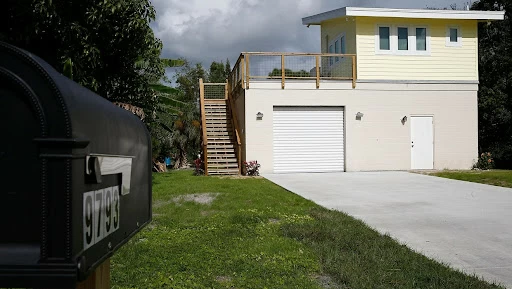 The Star of "Tiny House, Big Living"
If you've seen the HGTV hit show "Tiny House, Big Living" you may already be familiar with this tiny home. At just 226 sq. fit the living space is three times smaller than the garage foundation it sits upon. Despite its size, the tiny home manages to include a full bathroom, bedroom, and kitchen. The designer of the home modeled the space after sailboats, which are known for their ability to utilize every square inch of real estate. The home also includes a desk that folds out of a wall and loft space above the kitchen that can hold an additional queen-size mattress. And of course, homeowners can utilize the space above the garage as a patio. This little home has maximized all of its crevices!
So there you have it! Owning a garage does not mean you have to sacrifice your commitment to living small. A garage can serve either as the foundation of your small home or as part of the home's storage space. Regardless, these beautiful floor plan examples will allow you the ability to protect your vehicle and maintain your minimalist lifestyle.
We hope you've found some inspiration to start building your tiny home garage!