Whether or not you decide to travel to Paris and book it on Airbnb for €57 ($64) a night, we think you'll enjoy seeing the Cahute. It's a 71-square-foot micro THOW with a surprising amount of functionality and space inside. With a sleeping loft hosting a double bed, and a sofa bed on the ground floor, it can sleep three people, and it also has a little kitchen area and bathroom. The Cahute is currently located in le Camping des Grands Voisins, a tree-lined urban campsite on the grounds of an old hospital in Montparnasse.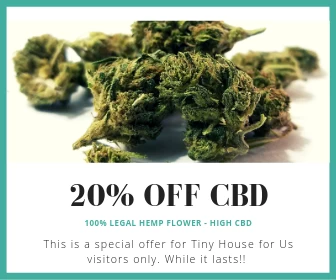 Notice how small it looks from the outside…
…and how roomy it feels inside!
A sliding door lets you into the bathroom; a ladder gets you to the loft.
Just enough to cook a quick meal and wash up afterward.
One thing we're not sure about: whether there's a shower.
It looks like the Cahute isn't the only tiny house at le Camping des Grands Voisins.
h/t Tiny House Town