With the recent trend towards large luxury THOWs, Modern Tiny Living's bright Nugget comes as a pleasantly unexpected treat for fans of simpler, smaller tiny houses. Just 12 feet long, 4,500 pounds in weight, and $36,000 in price, the Nugget features a sleeping/sitting area on one end and a kitchenette and bathroom on the other. It's well constructed, with a steel frame, a 40-year metal roof, and pine siding over three inches of spray-foam insulation giving R-21 in the walls. The finish, of course, isn't as artistic as you'll see in higher-end models, but at the same time it's a couple of steps up from basic – check out the hickory butcher block countertops and copper faucet in the kitchen, for instance. And perhaps the best part is that the Nugget is completely off-grid capable. It has solar panels connected to four batteries that can also take a 110-volt charge. Heat for both the house and the water comes from propane. The water can be drawn from a 100-gallon tank with its own 12-volt pump. And the toilet is composting, so there's no need for a sewer connection. Not half bad for the money (or the size)! The Nugget is currently for sale at Modern Tiny Living's Columbus, Ohio, headquarters.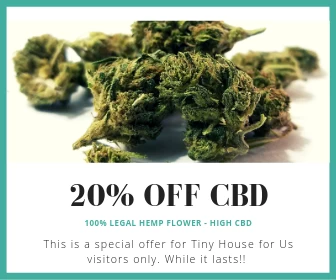 Yes, it does look a little like a garden shed on wheels.
But the inside is bright and pleasant. There's some storage under the bed and on the ceiling-level shelves.
A cozy, easily accessible spot for sleeping or lounging.
You'd need to add some kind of cooktop to the kitchenette, but it already has a mini-fridge set into the poplar cabinets.
Hopefully you enjoy the luxury of breakfast in bed – there's not really another place to eat it.
The 30×30 shower stall sits directly across from the composting toilet.
h/t Tiny House Town