Most newlyweds move in together after getting married, usually opting for a small house or apartment where they can comfortably fit a growing family. This couple went in the opposite direction, instead building a micro dwelling that clocks in at just 84-square-feet. They moved in on June 1 of 2014, and spent about $11k on the original build which provided them with a minimal viable shelter to live in. Since then they've made numerous changes, including painting the home, replacing the ladder with stairs, and adding a stove to help make it a more winter-friendly abode.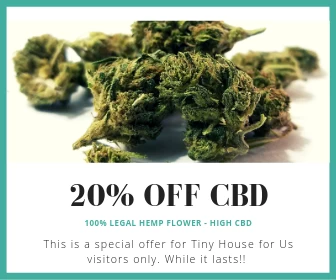 "Explore your options. Look at tiny homes that other people live in, and decide what you like and don't like. How are you going to heat? Maybe you have access to wood and wood burning is a better option for you. There are many ways to go about it. Just be realistic with yourself, but be daring! Sometimes you just need a little push."
Jordan and her husband rent a spot for $200/month and pay around $18/month for electricity. Not a bad deal when you compare to the average costs associated with most home rentals. As you can tell from some of the photos and the videos, Jordan is pretty big into cooking, and has plenty of tasty recipes on her website, so be sure to check out more videos on her Youtube channel, or visit her blog to stay updated with their living situation.