When you only have 84 square feet to work with you're going to have to make some sacrifices, and no, Ethan & Kelsey's Austin area micro-house doesn't have a bathroom. But other than that it's remarkably complete, mostly thanks to an innovative design that divides the single room vertically into two levels. The top level holds the kitchen sink, counter and stove; a work desk; and a sitting area complete with a small sofa. Below that are the fridge, storage cabinets and bed. Besides saving space, putting the bed on the floor, where it's cooler, makes sleeping easier in the hot Texas summer.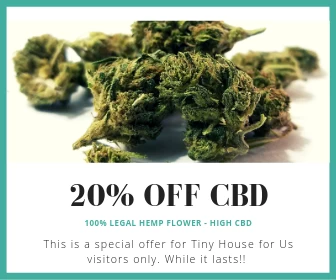 Not that Ethan got much sleep while he was building this place; he spent eight to ten hours a day on it, then reported for the night shift at his job. He was spurred to that superhuman effort by the fact that he'd just sold the first tiny house he built. As he and Kelsey were still living in it, they needed another place ASAP. Thanks to those long hours and the minuscule size of the project, Ethan was able to get it done in about six weeks. He got the trailer from craigslist, the furniture from Ikea, and the construction materials from a home improvement store, spending just $5,200 altogether.
Now back to the bathroom, or lack of one, which is actually related to the sale of Ethan & Kelsey's first tiny house. They had been living in it on their organic farm, and the buyer wanted to join them there. Ethan & Kelsey liked the idea of establishing a tiny house community, and they've been setting one up on a section of the farm now known as Tiny Town. To help it grow, Ethan built a communal bathhouse/laundry with a sink, flush toilet, outdoor shower, washing machine and dryer.
h/t Tiny House Talk
Interested in learning more? Ethan encourages people to get in touch with him at [email protected] for any questions about his house or his town.