We looked at a couple of big & tall THOWs from Trekker Trailers earlier this year, the Little Sunshine and the Full House. If the design of those models suggested that the Florida company knows how to put space to good use, their newest build proves it beyond any doubt.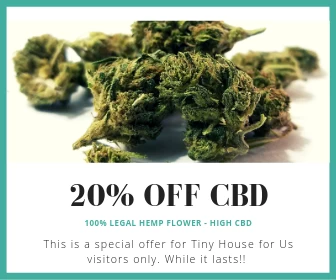 It's a loftless 72-square-foot micro house with a Murphy bed, kitchenette, bathroom and space for a few pieces of standard size furniture. It doesn't even feel cramped inside (except maybe for the bathroom, which doesn't have a separate shower stall), and it's hard not to love it – especially once you learn that it cost just $14,000 and includes features like double-pane argon windows, a mini-fridge-freezer, an instant propane water heater, and a dual bank battery system in the exterior storage space.
h/t Tiny House Talk
Trekker Trailers seems to have kept the price down by going with serviceable but not spectacular finish and low-cost but durable materials like sheet metal and sealed plywood. The house connects to city water and has a residential electrical box for 30-amp service. There's even a fair amount of interior storage, with kitchen cabinets, shelves, a slide-out pantry, and a little closet. It's an awful lot more than you'd expect for $14K, and it adds up to one of the best values around.