While 84-square-feet doesn't seem like much space, it's just about perfect for Conor, who owns this micro home built on a foundation in Spur, TX. He uses it as a place to work and as a living space. The skilled folks at Tennessee Tiny Homes are responsible for the build, so it's no wonder it came out so darn nice. Conor took delivery in early 2015 and placed it on a foundation on a lot he purchased, where it was hooked up to the city water/sewer/trash, and connected to internet/phone/electricity as well.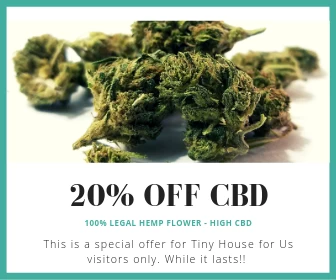 Like most people who decide to move into a tiny home, Conor wanted to continue a debt-free lifestyle and he didn't want to live in a trailer park or rent an apartment. He budgeted $40k, which was nearly his entire life savings, and when he discovered the tiny house movement he knew right away it would fit his vision. He chose the town in Texas because it was a city that legally embraced the notion of tiny living.
Ultimately he chose Tennessee Tiny Homes because "Joe and Kristen Everson are some nice people that manage to build houses for a fraction of what Tumbleweed's cost."
His home is fully insured through RV America Insurance, covering his home, personal property, and risk of fire, hail, and other natural damage.
A simple two-burner stove top allows Conor to cook basic meals.
While a small sink and various canned essentials occupy the remainder of the counter space.
Despite the micro size, he managed to squeeze a standing shower into the space.
It helps to adopt a minimalist lifestyle when you only have 84 square feet, and that includes paring down your wardrobe so it can fit.
Conor lays out a thorough explanation of his entire adventure from start to finish on his website, http://www.theworkhouse.co/postmortem/ and even includes a list of costs associated with everything from the vacant lot to the power connection fees and more. After living in the home for a few months he says he has no regrets, and plans to build a brick walkway and fire pit where he can better enjoy the vast outdoor space.