2016 will be the sophomore year for several tiny houses festivals, and there are a couple of new additions in the lineup too. These gatherings of tiny house enthusiasts and experts, builders and buyers, owners and others are a fun way to meet up with other people in the tiny house community, share your thoughts and theories, and make some new friends. And they always feature a number of tiny houses to tour, from companies' display models to unique owner-built creations. Here are five of the biggest festivals scheduled this year, plus a 2017 bonus in case you're really planning ahead.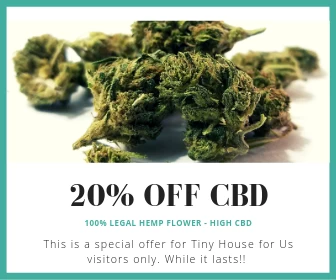 BIG Tiny House Festival
Date: July 16
Place: Concord, Massachusetts
The 2nd BIG Tiny House Festival will showcase houses from Miranda's Hearth, InRiver Retreats, Ben MacAdam, Tiny House Crafters of Vermont, and Bodhi Crumb. Panel discussions will feature area tiny house experts sharing what they know about building and living in tiny houses.
Festival des mini-maisons
Dates: July 28–31
Place: Lantier, Québec
Canada's first tiny house festival promises both trailer-based and foundation-based tiny houses, workshops, panels, film screenings and fun for the whole family on 225 acres of woodland. It's primarily a Francophone event, but they do have an English-language website as well.
Decatur Tiny House Festival
Dates: July 30–31
Place: Decatur, Georgia
On the same weekend but a lot farther south, Tiny House Atlanta is kicking off the inaugural Decatur Tiny House Festival. They'll have 10 to 15 tiny houses to look at and experts to talk to about topics like downsizing, minimalism, sustainability, urban planning, and zoning. Get your tickets here.
Tiny House Jamboree
Dates: August 5–7
Place: Colorado Springs, Colorado
The Tiny House Jamboree is a huge festival that will have around 30 builders in attendance, both big names such as Tumbleweed and Airstream and some of our favorites smaller companies like Tiny Idahomes, Tiny House Chattanooga, Rocky Mountain Tiny Houses, and Escape Traveler. Keynote speakers include Guillaume Dutilh of Tiny House Giant Journey and Tiny House Blog founder Kent Griswold.
Florida Tiny House Festival
Dates: November 18–20
Place: St. Augustine, Florida
The Florida Tiny House Festival is an outgrowth of the Georgia Tiny House Festival, which attracted nearly 5,000 people to its first edition this March. The houses you'll see are still TBD, but a number of builders and equipment manufacturers have already signed up, and you'll get to hear keynote speakers Derek "Deek" Diedricksen (RelaxShacks) and Andrew Odom (Tiny r(E)volution) as well as many other tiny house gurus. Tickets are here.
Georgia Tiny House Festival
Dates: March 3–5, 2017
Place: Eatonton, Georgia
And finally, after this year's success, of course they're going to do the Georgia festival again. While it's a little too early for the details, the organizers have already reserved the spacious and beautiful Ooh La La Lavender Farm for the event, and they expect to have both returning guests and some new big-name speakers next year.