Not sure if you're ready to make the transition to full-time tiny living? Maybe you're just curious what it's like to live in a tiny house and want to "try before you buy" to see how it feels. Thanks to websites like VRBO, Airbnb and Homeaway, you have quite a few options for finding tiny house rentals just about anywhere in the world. We looked around and picked six of our favorites, based on the number of positive user reviews and of course, their square footage footprint. With their humble size, most of these rent for very reasonable rates, usually $100 or less per night. Any one of these places would make for a perfect romantic getaway with your significant other, or a small group of friends, assuming you don't mind sleeping in close quarters. If one thing's for sure, it sure beats staying at Motel 6.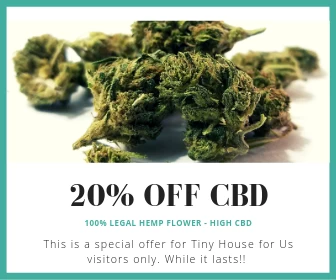 Cozy Half Moon Cabin – Gasquet, CA
Way up in Northern California you can find this rustic getaway, which features a bare bones sort of approach to living. Part of a permaculture village featuring other sustainable houses, this would be a great place to get a feel for what it's like to live off the land, pure and simple.
Cost: $68/night | Make a reservation
Gingerbread Cottage – Point Roberts, WA
If you plan to visit the Pacific Northwest anytime soon, you'll have plenty of options for tiny house rentals in between Portland and Seattle, but this is one of our favorites. Set in a grove of cedars, your only neighbor is the 150 acre state park next door. It has a solarium downstairs and a nice second story deck where you can relax, play some cards and enjoy a cold brew with friends.
Cost: $99/night | Make a reservation
Cozy house – Berkeley, CA
Next time you plan a visit to the Bay area, make sure you consider a stay in this tiny house located in Berkeley. With its convenient location to BART stations you'll have no problem getting into San Francisco, and you can avoid the high priced hotels there too.
Cost: $90/night | Make a reservation
Silo Studio Cottage – Tyringham, MA
We recently wrote about this very unique cottage, once a silo, now converted to a storybook home fit for Rapunzel. This tiny space is totally unique in its appearance. Located in the hills of Western Massachusetts it offers a quiet place to escape and hike the Appalachian trail.
Cost: $225/night | Make a reservation
Quiet & Cozy Tiny House on the Bay – Olympia, WA
The only one in the list that fits the definition of a tiny house on wheels, this place offers a quiet refuge in a rural location right above beautiful Puget Sound. The familiar-looking design comes from Tumbleweed, and it was hand built with love by its owner, Brittany.
Cost: $105/night | Make a reservation
Art Studio/Rustic Retreat – San Diego, CA
Southern California offers plenty of sun, temperate weather, and lots of gigantic mansions along the coastline. Which is why we're happy to see this tiny gem tucked away. Aimed at "green conscious" travelers, the hand built cabin offers all the amenities you need to enjoy your stay.
Cost: $70/night | Make a reservation