When Swiss designer Till Konneker of Ill Designs moved into a very small apartment he ran into a common problem that anyone who lives in a tight space knows about – a lack of storage. So he decided to take matters into his own hands, and designed his own solution that incorporates a library, bed, closet, and much more. It's something we've seen in other small apartments, and until now there wasn't a ready-made product you could buy.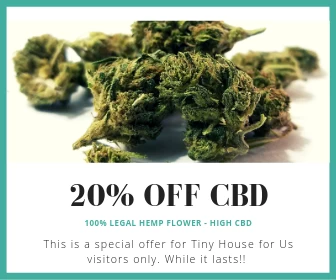 The Living Cube comes in three configurations, a Mini, Urban, and Living Wall styles. The Mini Cube for example costs $2500 and measures 8.5′ wide x 5.25′ deep x 6.5′ high. The Urban version is almost twice as wide, and they also offer custom configurations based on your exact size needs.
"I wanted to focus on practicality and functionality and skip any unnecessary elements. My goal was to come up with a timeless design that fits any space and living situation."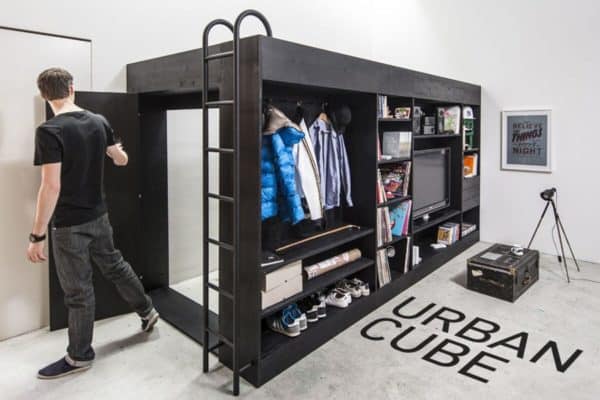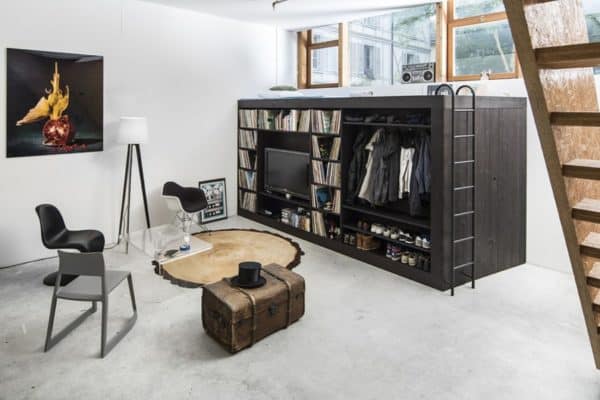 To learn more about the Living Cube, check out their website.
What is a Living Cube?
A living cube is an all-in-one living space. The original Living Cube, as designed by Till Könneker, featured a storage wall, a bed accessed by a ladder, and a room inside the cube that could function as either an office, storage space, or music studio. You can now buy your own Living Cube, configured to your own particular preferences and specifications and incorporating the different sections you need for your lifestyle.
The Living Cube offers an unconventional way to maximize space and efficiency in a room. We can imagine it working particularly well in large open-plan places such as a warehouse. You could even have multiple living cubes for different people to use.
Who designed the Living Cube?
The Living Cube was designed by German designer Till Könneker who lives and works in Switzerland. He came up with the idea of the Living Cube after moving into a new apartment in Bern and finding he didn't have enough space to store all his records, music system, clothes, and other belongings. Plus, he wanted an extra bedroom for guests.
Könneker decided to create an all-in-one solution to make the most of the space. He drew up some sketches and Remo Zimmerli of Shreinerei Holzlabor helped turn them into a reality.
After completing the project, photos of the Living Cube went viral and started appearing on design blogs all over the globe. Its popularity led to Könneker offering to make Living Cubes for other people. He also started investigating how the Living Cube might work in boarding schools, hotels, and the military.
Can you customize a Living Cube?
Till Könneker offers a service making Living Cubes for people based on their unique specifications. In fact, Living Cubes are designed to be modular so they can be tailored to people's particular needs.
There are several different models available and they can be made in two heights and in a range of colors (including black, natural, and whitewash). Elements such as the bookshelf, drop-down desk, and drawers can be altered according to individual requirements. You can also have an entirely bespoke design for an extra fee.
If you don't want something quite as dramatic as a Living Cube, you can purchase the Living Wall system, which offers comprehensive storage but no bed or separate storage room.
How much does a Living Cube cost?
The price of a Living Cube depends on what your design includes but the minimum price is around $2,500. Then you need to take into account shipping which may cost a couple of hundred dollars.
What are Living Cubes made from?
Living Cubes are made from three-layer spruce which is then stained black and finished with bio-oil. Clamex-P detachable furniture fittings are used to join the various parts together, offering strong anchorage with minimum tools required. Production takes place in Switzerland and North Carolina.