As some people approach retirement, they may want to live in a spacious mansion on the edge of a golf course, or perhaps like the Rogers' they prefer living modestly in their own version of a dream home, a 420-square-foot tiny prefab model. With increasing numbers of people opting to tiny living as a reasonable alternative to the 2,000+ square foot homes that dominate so many areas, more and more of them are finding that choice simply isn't possible. And for various reasons, it's not always legal either. That's what Karen and Tom Rogers found out soon after moving into their home. Interestingly, the couple had no problem living in their custom 5th wheel mobile home, which was parked in the same location and hooked up to the electrical system of the RV park.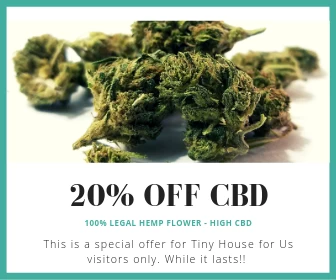 They thought nothing of replacing their RV after it was crushed by a falling tree, so what gives?
Karen explained that soon after moving into their home the York County Board of Supervisors began to pressure them, saying the construction was not given proper approval.
Specifically, the home didn't have this sticker on it, which certifies the home has been approved by the U.S. Dept. of Housing and Urban Development.
So Tom and Karen filed an appeal with the Zoning Board Court of Appeals, and won. The local government didn't like that ruling, and as a resut the Board of Supervisors pursued their own appeal of the judgement in an attempt to force them out.
Tom, a retired Navy veteran, suffers from MS and part of the reason for moving into a small home was the ease of living it provided him.
Despite the local government's stance, neighbors didn't seem to mind the home at all, and even signed a petition to allow them to keep the home. The County fired back, claiming the home was a "public safety" concern. The town must be pretty safe if this retired couple and their home tops their list of concerns.
The couple defends their position, yet they have no money for a lawyer so they are forced to fight the local government on their own. They started a Change.org petition which can be found here, and need only 650 more signatures to reach their goal as of the time this article was written.
What you can do to help
Sign their Change.org petition
Contact Mary Harris at the York County Board of Supervisors and let her know what you think