We recently profiled Rob Greenfield, a humble guy who lives in a very tiny urban house with no kitchen or bathroom (there is a composting toilet in a nearby outhouse). That's fine for Rob, who doesn't believe in cooking or showering; he scavenges most of his food from dumpsters and bathes only in natural water sources. But what about his girlfriend of four years, Cheryl Davies, who loves Rob but isn't quite as committed to the lifestyle he's adopted? She's just written an interesting piece on Rob's website where she shares her experiences dating a hardcore tiny house dweller. Her perspective is a good one to share, as I'm sure a lot of single folks thinking about making a transition to a tiny living space wonder what sort of reception they'll get from the opposite sex.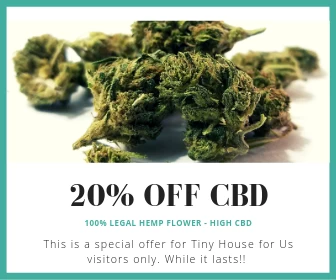 "Many people ask what it's like to be with an environmental activist boyfriend or to live in a tiny house, let alone an off the grid tiny" – Cheryl Davies
Cheryl has her own apartment in downtown San Diego, but often sleeps over at the Teeny Greeny. That's normal and comfortable enough, as the house contains a full-size bed (if not much else aside from a few storage cabinets). After some initial misgivings, she found the toilet surprisingly easy to get used to. It's surrounded by bamboo walls but open at the top, and the tree branches and songbirds provide an exceptionally pleasant and relaxing atmosphere. Everything else is done outside, the cooking (if any) on a gas stove and the eating and hanging out on a large, comfy lounge chair.
When back at her apartment, Cheryl lives much more conventionally, but that may be changing. She says that nearly everything she does there now seems like overconsumption, and she's begun taking small steps toward ecofriendly living . For now, her visits to Rob's house seem like "taking a vacation from being wasteful" – and a very enjoyable vacation at that. Read her whole story here.