A recent story has been making waves among tiny house fans. The story was titled "Living in tiny homes was much harder than these people realized" and the basic premise can be summed up in the opening paragraph where they pose the question, "Tiny fantasy or big mistake?". The article continues to explore examples where people abandoned their decision to live in a tiny house, citing various reasons from being too isolated, to encountering zoning issues, and the most obvious – not having enough space.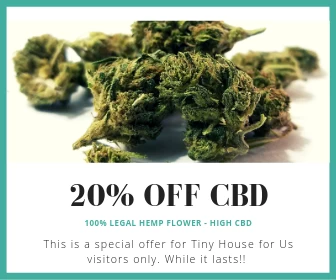 Of course tiny living isn't for everyone, and some people who make the transition might realize they've made a mistake after. But isn't that part of life? How many of us have struggled with situations large and small, taking a new job, dating someone, buying a terrible piece of furniture?
In the grand scheme of things, pointing out that several people decided to move out of their tiny house doesn't really indicate any sweeping failure in the movement.
Regardless, the story did raise awareness about a not so often mentioned side of tiny living, one that isn't all that positive, but still rooted in a reality that anyone considering making the transition should take seriously. Below you can find a few of the examples the article mentioned, and judge for yourself whether you might feel the same way.
1. The Family Life Isn't So Easy
For Joanna and Collin, the tiny life didn't seem conducive to raising a family, and while we've seen plenty of examples where parents and their kids live comfortably in a tiny house, they couldn't justify the trade offs. After falling in love with the idea, they bought plans to build a Tumbleweed home, and spent around $20k to complete the build over the span of a year.
They called it the "Wee House" and lived there happily for about six months until Joanna found out she was pregnant. After that, a new reality sank in, and when additional health issues sprang up they moved in with family. Soon after they listed the home on their website and sold it for $23k, turning a small profit, and consequently moved into a 1,000 square foot home in Stratford, Ontario.
2. Zoning Regulations Cast A Dark Cloud
Jonathan Bellows made his dream a reality, building his own tiny home in 2009 and soon found that while he loved living there, other folks didn't feel the same way. Like a good many other tiny house owners, he dreamed of parking his home in the middle of a large expanse of land. There was just one problem.
In his township in Michigan it's illegal to live in a space under 930 square feet, and smaller homes like trailers had to be grandfathered in as part of a trailer park. As ridiculous as that sounds, the rules existed, and Jonathan was so in love with the idea of building his tiny house that he continued on his mission, regardless of the zoning regulations.
He met with the city council and other governing bodies, never getting a straight answer, and finally bought four acres of land where he parked his home in a secluded section not visible from the road. Not long after he found an unsightly sticker from Code Authority deeming his home illegal. After getting the run around from the city, he gave up, moved to Oregon and now shares 830-square-feet with a roommate.
His tiny home remains abandoned on the property in Michigan, and Jonathan doesn't have the $3000 to tow it somewhere else.
3. Desolation and despair in the mountains
One of the more memorable episodes of FYI's Tiny House Nation profiled a couple whose remote mountain home burned down. The determined couple made a tough decision to rebuild, opting to work with Cabin Fever and the tv show to build a beautiful, fully sustainable home in the same location.
While the tv crew helped with the build, they also pushed the couple to finish by a deadline, and when they packed up the tools and left, the home looked like a dreamy model version. And yet, things aren't always what they seem. They explained how water leaked in the windows and down the chimney, appliances that didn't work, plumbing issues, and lamented about having to tear through their floor and walls to remedy the situation.
Aside from the growing list of hidden problems, the couple ran into another basic yet essential problem. They both work from home, and relied on a single internet provider in their remote location. Not long after the build, that provider departed, leaving them with no service. That last straw broke their backs, and they made the tough decision to move to a 1,500 square foot hom in Salida Colorado early in 2015.
They still own the mountain home, which remains perched atop the mountain, surrounded by 37 acres.
A wide range of responses were seen from tiny house enthusiasts, ranging from disgust at the article's slant toward dismissing tiny living as a fantasy to understanding the real challenges people face when making the transition. Regardless, the article explores a side of tiny living that isn't all about freedom and happiness, and gives us something to think about. Lessons can be learned from these examples, and it's important to give careful consideration to all these aspects, even if they're uncomfortable and discouraging.
You can read the entire story at Tech Insider.