Made in China: Tiny Houses
Although 3D printing is just starting to reach the consumer market, it's actually been used in manufacturing for over thirty years. Components for cars, aircraft, and medical devices have all been made by this method, and now WinSun, a company from Suzhou, China, is printing entire houses.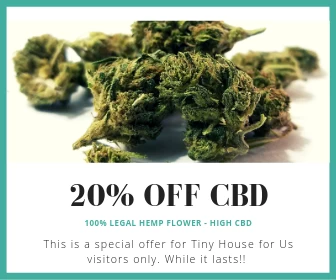 While I may personally find the idea of buying a tiny house from China at odds with my personal vision of what freedom in this country means, I can't deny the fact that when it comes down to it, being able to save money on a build is often paramount. So if a company anywhere in the world can fabricate usable materials like this and maintain consistent quality, that's a great thing. In the tiny house industry where so many folks opt to build their own, learning as they go, there's also a good number who need templated, easy to work with materials that may sacrifice a bit of personality in favor of utility.
In fact, WinSun was recently able to build ten tiny houses in one day using a huge proprietary 3D printer. The device, measuring almost five hundred feet long, more than 30 feet wide and over 20 feet high, was developed over the course of a dozen years at a cost of around $3.2 million.
Using recycled cement and other construction debris as the feedstock, WinSun was able to print the houses for under $5,000 a piece, which is only half what more labor-intensive standard construction methods would cost.
Just like many books, WinSun's houses are available on a print-on-demand basis. They're also customizable; the company's CEO, Ma Yihe, promises fast, cheap printing of any design a customer submits.
For the moment, they're limited to one story, as the Chinese building code doesn't allow 3D printers to be used for multi-story structures. Too bad for Mr. Ma, who would like to get in on China's skyscraper construction boom, but just fine for Chinese tiny house enthusiasts.
Popup Yurts
Jero has created a modular yurt kit adapted from the traditional nomadic Asian structure and fitted with 21st century ingenuity. The shelter can be erected and torn down in minutes, and then packed into the back of your truck for moving. It's 12 ft. in diameter and clocks in at 135 square feet inside. It could be a great "spare" room at your existing pad, or offer an easy, all-in-one way to take your show on the road to setup in anywhere, USA. At $7300 it's not cheap but the quality appears to be top notch and it does have the portability factor.
California State Park Upgrade
How'd you like to stay in one of these on your next trip to Yosemite National Park?

image courtesy of Paul Vu
As part of a campaign to modernize the experience at California's State Park cabins, the Parks Forward Commission hosted architecture students From Cal State Polytechnic University who showed off their designs. In case you were wondering, the CA State Parks did not pay for this sort of thing, in a year when they have otherwise been cutting costs and services. This was an independent initiative and Juintow Lin, associate professor of architecture calls it a "modern take on the traditional cabin" when describing the wedge, shown above. It features a sleek design that's simple, and took only four days to build in a factory.