What do backpackers and tiny house dwellers have in common? They both look for creative ways to save space, reduce weight, and maximize utility. When you live in a small space, whether 100 or 1000 square feet, every inch starts to matter. Clutter builds up quickly, as does the insanity and it's important to get creative when building your home, thinking of clever ways to use those nooks and crannies to your advantage. Below we gathered some ideas that highlight some of the more creative ways that homeowners save precious space.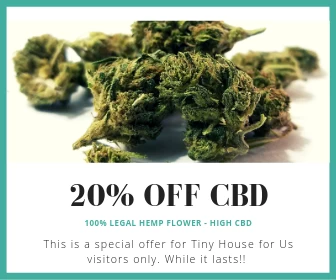 1. Marine Woodstove
Space is an issue on boats too, so if you're planning to heat your tiny house with a wood stove, take a page from the nautical handbook and consider the 12x12x11-inch Sardine from Navigator Stove Works. It provides all the charm of a traditional wood stove but takes up very little space.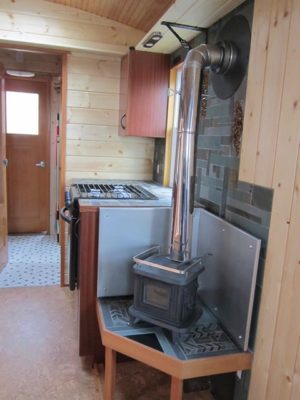 2. Pop-Out Balcony
So we realize this might not be a realistic option for most of us because it costs a lot, and you might not like the idea of sitting on a glass floor, but we had to share it. The elusive pop-out that many RVs include is something many tiny house builders would love to incorporate into a build, but that's easier said than done. Soon to be available from Kwaneer, the Bloomframe is an aluminum-frame window that expands into a sunlit sitting area.
Bloomframe Window Pop-out Balcony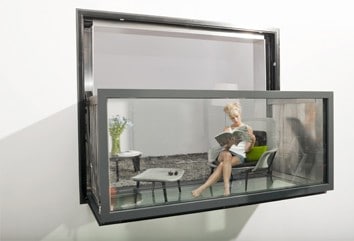 3. Pocket Shower Curtain
The bathroom can get messy fast, especially if you don't have much storage space to stash your essentials. This shower curtain from Maytex features large mesh pockets that might let you do away with cabinets altogether.
Mesh Pockets Waterproof Shower Curtain
4. Dishwasher Drawer
Off-grid houses may not have electricity to run a dishwasher, but if space is the only concern then a smaller (and greener) drawer-style unit could be the perfect fit. It's not cheap, at around $1000 or so, but you can find it here if you're interested.
Stainless Double DishDrawer with Recessed Handle
5. Stair Storage
This is a popular strategy we see used in plenty of small houses, where the hollow sides of a stair can include extra cubby-hole space. Alternatively, you could build drawers that pull out into the risers. This one below even includes extra space for a dog crate.
6. Sofa Bunk Bed
Any sort of sofa that converts into a comfortable sleeping surface is worth it when you live in a small space, especially if you have guests staying over for the night. While most converting sofas offer just one small space, this innovative design from Bonbon gives you twice the sleeping space of a traditional sofa bed when it transforms.
7. Fold down table/bookcase
Plenty of tiny houses incorporate some kind of foldaway table, a convenient thing to have when you need a workspace or dining table but also want to free up that space at times. This design available on Amazon has a bookshelf built-in, and at a cost of $120 it seems well worth it.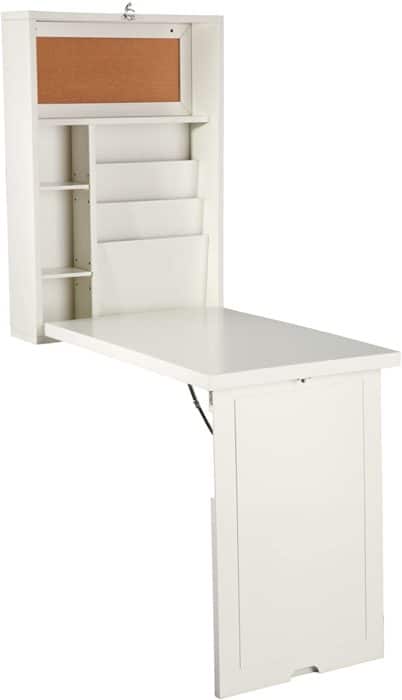 8. Sliding Pantry
We've said it before: a sliding pantry is a great way to store dry goods in a tiny kitchen. For all you DIY'ers out there, Mallory & Savannah have detailed instructions on how to build your own over at Classy Clutter.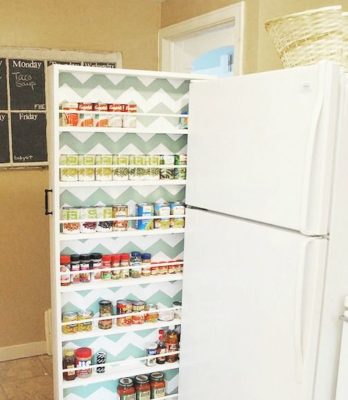 9. Over-The-Sink Cutting Board
Every inch of counter space matter when you're prepping a meal, and we see this sort of design enhancement used in lots of tiny houses and RVs. If you didn't have the foresight or resources to build a matching wood block to fit over your sink, don't fret – Crate & Barrel offers a cutting board that can be placed right over the sink that even includes a cool drain basket thingy.
10. Doggy Bowls in a Drawer
This idea will keep you from tripping over your pet's water and food bowls while you're trying to make your own dinner. Maker Bailey Fine Pet Furniture seems to have gone out of business, but it looks like an easy DIY project.
11. Painting doubles as jewelry holder
Of course you could use this sort of approach to hold a number of other things besides jewelry, assuming they're slim enough to fit behind the frame.
12. Recessed Pantry
Take a moment to think about where you might have an open space along the wall in your home, and build a recessed pantry to squeeze a bit of extra storage space without taking up any extra square footage.
Do you have any recommendations for ways to save space in your house? Feel free to share in the comments below.