Remember the towable tiny house designed by some students in Vermont? It remains one our more popular posts, and part of the attraction came from its portable design which makes it easy for any vehicle to tow. Well today I wanted to share a couple slimmed down versions that you can tow with a bike! Personally, the idea of lugging one of these around for more than a mile seems like a recipe for self-torture but for other more intrepid folks these mini campers could be a perfect alternative for the traditional camper/car road trip.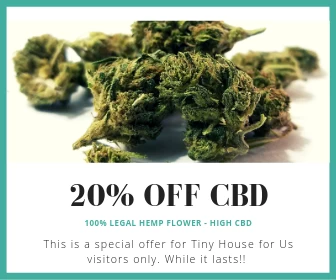 The Wide Path Camper
The most recent example to get a lot of press is this lightweight micro-camper that's set for production in 2015. It weighs in just over 80 lbs., making it light enough to tow behind your bike (assuming you're in good enough shape), although I imagine hills will become an even bigger enemy with this thing attached.
It folds out from a compact size in order to make room for a sleeping/sitting area.
With just enough room to sleep two people, the bed stretches across the interior and folds up to make room for a small table and storage areas.
The designer behind this thing, Mads  Johansen, claims it can sleep 2.5 people. We assume the .5 refers to a small child and with around 79 cubic feet of storage space inside, you imagine sleeping with two adults and a kid might not make for the most relaxing vacation. But for anyone out there who loves touring the countryside on their bike, it might be a decent solution for a couple days worth of adventures, Clark Griswold style.
The Bushtrekka
This one seems like the most sensible model, and the lightest at just 56 pounds. It has three storage compartments and folds into a compact bundle when you're riding, making for less wind resistance. The design includes some other great features as well, like a pivoting wheelset – think independent shock absorbers, which allows the wheels to operate better on uneven surfaces. The trailer is height-adjustable as well, meaning you can attach it to any size bike with ease. As for the tent, it only accomodates one person, so you would need to carry an extra sleeping tent with you if you're planning a family voyage.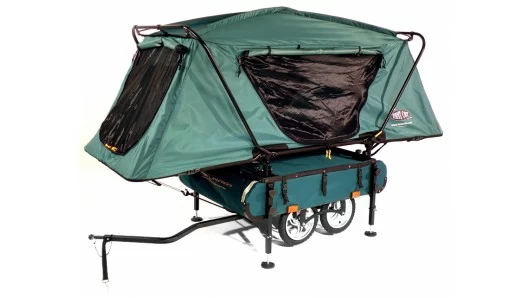 The Bushtrekka costs $899.99 and is available via Amazon for anyone interested.
The Burning Man Camper
Perfect for those who identify with the burner lifestyle, or perhaps a post-apocalyptic tour of the countryside. Designed by a guy named Paul, it has everything you need to survive a desert festival. It weighs 100 lbs. and includes a solar powered oven, solar water heating, solar lights, and a mini wind turbine to produce a bit of extra power. There's even a urinal funnel on the outside (don't ask us how he handles number 2). Via dvice.
Mini Mobile Camper
This is one of the coolest designs by far, and designer Kevin Cyr takes a page from the 1960s vintage trailer style. He makes these scaled down mini campers that look like a regular one you might tow with a car. He focuses on the little details, even using faux wood siding and mini plug outlets. While these designs are not very practical for traveling any far distance, they are certainly impressive.