Take a peek on any Pinterest board and you're bound to see some projects featuring upcyled wood, from cabinets and siding to lounge chairs and end tables, the options go on and on. Many folks in the tiny house community love the idea of recycling wood and other materials. After all, it's generally a cheaper approach, but there's more to it than just saving a few bucks.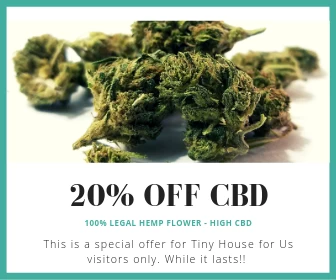 Natural Beauty, Savings, and Protecting the Environment
Reclaimed lumber, salvaged timber, recycled wood – whatever you want to call it, sourcing wood from an old building in a new construction project has a lot of advantages. Besides being environmentally friendly, reclaimed wood is better-seasoned and generally stronger than new lumber since much of it comes from old-growth forests untouched by 20th century air pollution. It often has an attractive weathered appearance, adding a rustic character to projects and bringing a story with it. Often times you'll find wood that comes from tree species that are practically extinct today. While you might feel bad purchasing brand new Bolivian Rosewood for your kitchen table, there's no shame in reviving a rare bundle of wood that may otherwise get tossed in a landfill. It's also a cost effective alternative to buying from a lumber yard.
The benefits are so obvious, and demand so high, that if you buy reclaimed wood from a lumber dealer you'll be paying at least as much as you would for newly-harvested material. That can get expensive, but fortunately it's not your only option. Finding old wood isn't as easy as buying new timber from a tree farm, and there's still a lot of it sitting around in unused buildings waiting to be discovered by someone who's willing to put in the time to look for it.
It does take some effort, but you can get some great wood for next to nothing, sometimes even for free. The trick is knowing where to find it. You don't have to limit yourself to reclaimed wood, either; you may want to expand your search to include newer scrap wood, and maybe even recently-deceased trees . . .
Entire businesses have sprouted up around the idea of using reclaimed materials, and companies like Reclaimed Space and Texas Tiny Houses make it their primary goal to build tiny houses reclaimed wood. Just take a look at some of these examples, all made using "upcycled"materials.
Brad Kittel is the owner of Texas Tiny Houses and a pioneer in terms of sourcing materials from abandoned barns, torn down buildings, and other random places most of us would drive by without a thought. His website is filled with insight into how to dismantle planks, remove nails, and spruce up boards for use in a variety of projects. If you haven't paid a visit there, I'd highly recommend checking it out.
7 Sources for Reclaimed and Salvageable Wood
Property Owners
Agriculture isn't nearly as prevalent as it once was, so wherever you live it's a safe bet that there are now more barns than farmers, more wooden post-and rail-fences than ranchers. Because those barns and fences are no longer used, they haven't been maintained, and many of them are just short of falling down. They don't even look quaint anymore, just ugly, and the people whose land they're on would likely get rid of them if they weren't afraid of the expense and hassle involved.
That's where you come in. If you've noticed an old wooden eyesore along the road somewhere, why not give the owner a call and offer to dismantle it free of charge in exchange for the lumber? If you haven't found anything that looks promising, you could try a newspaper ad making the same offer; you're almost certain to get a few responses to choose from.
Yes, taking down a barn or pulling up fence posts is a lot of work – but it's also a lot of wood!
Demolition/Excavation Companies
Of course, not everyone with an unwanted old building on their property is going to wait for you to get in touch; some want it gone right away and don't mind paying to have it done. Developers who buy land to build on will also need to clear existing structures quickly. They'll probably hire a demolition/excavation company to do it, and most of these companies don't have anything to do with the materials they remove except take them to the dump and pay a disposal fee.
So there's another opportunity for you. Talk to some of these companies and find out if they have any upcoming jobs where they'll be taking out a lot of wood. Then offer to take it out yourself or take it off their hands once they finish the demolition. The latter obviously involves less work on your part, but a number of the boards will probably be damaged in the process. Either way, you won't have to figure out what to do with the parts of the structure you're not interested in.
Contractors
Contractors who specialize in home remodeling are another group of businesses to contact. A remodeling project probably won't free up as much wood as the demolition of an entire building, and it may not be very large or high-quality pieces. On the other hand, a contractor is even less likely than a demolition company to have any plans for the wood they do take out, so it's generally yours for the asking. (You may even be able to charge them something to remove it, as long as it's less than what they'd pay the dump.)
It's fairly easy to find contractors on Craigslist, and all it takes is a simple email or phone call to find out whether they might be able to help.
Cabinetmakers, Furniture Manufacturers, Wood Flooring Installers
Any outfit that makes things out of wood is going to have a regular supply of scraps. Now, there are two problems with this from your point of view: because this is scrap wood, most pieces will be small and not particularly useful for building things; and because these companies generate a lot of it, they've probably figured out how to make some money from it, so it's unlikely to be free. But it will be high-end hardwood at a lot less than you'd pay for it anywhere else.
Salvage and Lumber Yards
"Wait," you say, "I thought I was reading this so I wouldn't have to go to a lumberyard!" Well, lumberyards have scrap too, so going to one doesn't always mean paying full price. Ask around and you may find some bigger pieces here than at the woodworking companies mentioned above. Again, it won't be free, and they will have scrapped it for a reason – insects, warpage, etc. – but it's definitely not an option to overlook if you're on a budget. At Garbage Reincarnation in Petaluma, CA you can find all sorts of furniture and wood from tear downs at a good price. I'm sure there are similar places near where you live.
Used Furniture
Sometimes the wood in an old chest of drawers, desk, or bedframe is worth more than whatever the item itself is being sold for. Second-hand stores, flea markets, and yard sales are the obvious places to look for such things, but you may get lucky and find something left out for the garbage truck along the road. Wood from furniture is usually good quality stuff in good shape; the only real drawback is that you have to disassemble it and figure out how to use all the differently-shaped pieces.
Internet
Not everybody likes wood as much as you do. And just as you're trying to find it, they're trying to get rid of the dead tree or pile of old window frames cluttering up their backyard. Many of them post on sites like craigslist and Freecycle in the hope that somebody with a pickup truck will take it off their hands. What you come up with this way is pretty hit-and-miss, but you can search from the comfort of your home and it doesn't cost anything once you find it.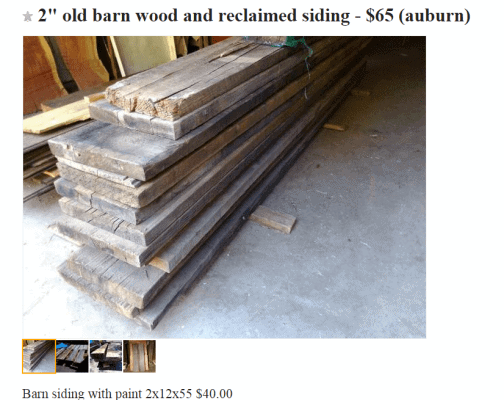 A more-involved online option is lurking in woodworking forums such as those at WoodNet. You can occasionally find free wood there, but mostly it's a way to meet other woodworkers who have their own connections and sources for low-cost lumber.
Websites worth checking out:
Have any suggestions of your own about where to find wood for your projects? Feel free to leave a comment below.