Many folks opt to use a trailer as the foundation for their tiny home, and for good reason. For one it helps with mobility, and being able to tow your home anywhere in the country makes for an appealing option. Another good reason is that without a proper foundation you don't need to pay property taxes. The only taxes you might be subject to come from the DMV, and their bills cost a lot less than the state's. But if you want to ensure that you have a stable foundation to build upon and one that enables transport of your tiny house, a proper trailer is crucial. A few important details to consider include the length, weight, and number of axles on the trailer and the brakes, all of which we'll cover in the following sections.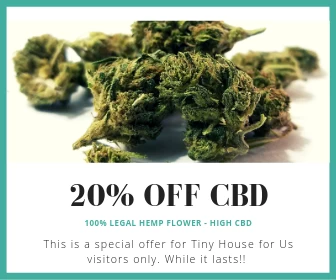 Legal restrictions
Most people choose a trailer with dimensions of 7-8′ wide and somewhere between 14-17′ long although you can find ones as long as 30′ or more for sale. The width is measured between the wheels, but you'll be able to extend a bit wider in most cases, framing around the wheel wells to get those extra few precious inches of space. Keep in mind anything over 8′ 6″ wide will require a wide load permit to tow, something that is easily obtained, but worth knowing for sure. Also you'll need to stay under 13′ 5″ in height, a restriction meant to keep bridges in tact.
Types of Trailers
A typical flatbed aka lowboy aka utility trailer makes for an ideal choice. Most will have wheels that come up above the floor level of the trailer, though some like the Popomo from Tumbleweed have wheels that sit beneath the entire bed.
Weight ratings
Simply put, two axles are better. Each axle is generally rated at 3,500 pounds, though some can accomodate up to 5,000.  If you're looking for a used trailer and find a great deal on one with only a single axle, you may want to reconsider. If you plan to build a home under 5,000 pounds a single axle may suffice but we'd recommend two just to be safe. Trailers are rated by their weight rating, referred to as the GVWR, short for Gross Vehicle Weight Rating. This figure largely determines the price of a trailer, and the more weight it can hold, the higher the price.
Brakes
This often overlooked part of the trailer might be the difference between a white-knuckle rid and a smooth transport.
Pricing
The price of a trailer accounts for a large percent of the overall cost of a tiny house, so shop around to find the best deal. Craigslist is a great place to find used ones, and otherwise Big Tex Trailers, Trailers for Less, ListATrailer and Trailers Plus all make for good options. Another reputable seller is Tortoise Shell Homes, where you can get an 8'x16′ trailer with a 7,000 lb GVW for $1950. What's nice about theirs is the absense of ramps, side rails or ramp receptacles, which you'd just end up removing anyway. They also offer 1.5″ doug fir planks that you can use as the sub flooring.
Towing
Another important thing to consider, especially if you plan on using your existing pickup, is the towing capacity. While most 2.5 and 3+ ton trucks can handle the job, you'll want to make sure you know the limits. We have heard of axles being ripped off and wheels lost, something you definitely want to avoid! In many cases renting a truck is a safe bet and if anything happens to the truck it's no the rental company, not you. If possible, get a dually, the type of heavy-duty truck that has two wheels on each side of the rear axle. It will help reduce a lot of the towing jitters.
Misc tips
One handy tip we came across was to take your trailer to a truck scale to weigh it. That will help you gauge the overall build weight once you have an idea of the materials you need, and can help you stay within the recommended weight rating. Do the same after you finish the build to make sure you did in fact stay within your figures.
Pictures of tiny house trailers
Fat and Crunchy's 30′ trailer
Jonathan's build, just starting out