Building a tiny house may seem like less effort, simply due to its size. But in many ways, it's just as complex as building a conventional-sized house.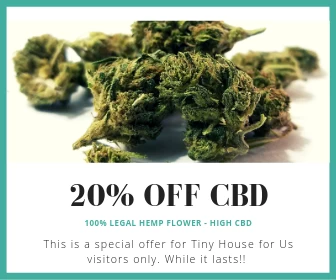 And anyone who's worked on a serious construction project knows how important it is to have the right tools when building. It can mean the difference between endless swearing and frustration—and sitting back with a beer and admiring your handiwork in the evening.
Because when we talk about tiny house supplies, we don't just mean investing in some swanky tiny home furniture or the best tiny house appliances. Before you even get to the stage of furnishing and fitting out your tiny home, you need to consider tiny house materials and tiny house building supplies. And an important part of all of that is tiny house tools. 
Bit of a novice to DIY? Worried you might accidentally splurge half your budget on a trip to the store unless you know exactly know what you're looking for?
We spent some time rounding up the best tools for the job—tools that will save you time, money, and help you build a better home.
Of course, before you get started using these tools, you need to know exactly what kind of tiny house you're building. Designing your own functional tiny house can be tricky. We recommend checking out some of these tiny house-building plans. We've included prices so you can pick one that works with your budget. 
Once you've chosen your plans, start investing in the best tools needed to build a house and to make the construction process easier and more efficient. Whether you're looking to do a school bus conversion or standard tiny house on wheels, these tools are bound to come in handy. 
Cut to the chase:
Why you need it
Naturally, whatever kind of tiny house you're building, you're going to be doing a lot of nailing. And swinging a hammer can get tiring. Therefore this is probably one of the best investments you can make, saving both time and energy—especially when it comes to tiny house roofing. 
The important stuff
18-volt cordless lithium-ion battery stores plenty of power

No need for an air compressor, CO2 cartridge, or cord

Up to 700 nails in one charge

Delivers 18-gauge nails from 5/8 inch to 2-inch length
Compared to similar tools, like those nailers by DeWalt and Rigid, this one is much smaller and easier to handle. Reviews consistently mention how simple it is to use and how it can make short work of whatever DIY project you're undertaking.
Ryobi has been making a name for themselves over the past decade and continually improving their products. This tool is no exception.
Lithium Ion Cordless Brad Nailer

Why you need it
Looking for tiny house supplies? Now that you've got a nailer, complete your collection of basic building tools with Ryobi's rechargeable drill/saw package. Together, a drill and saw are two of the essential tools needed to build a tiny house and will allow you to handle 90% of your construction tasks without breaking a sweat.
Oh, and did we mention the kit comes with its own neat tool bag too?
The important stuff
24-position clutch to give you extra control

2-speed gearbox that you can adjust according to your drilling needs

½ inch heavy-duty keyless chuck so you can change bits easily and quickly

Magnetic bit holder to make placing screws and bolts simpler

Compact saw design for easy handling
Lightweight but high performance, and with a battery that lasts and lasts, these are two more quality tools from Ryobi. With a powerful, versatile drill and an easy-to-handle saw that makes quick work of 2×4s, this combo is what you'll reach for whenever you need to make a cut or bore a hole.
The saw also has a pommel handle for 2-hand operation and a left side blade to make it easier to see your cuts. The battery recharges in just 60 minutes and both batteries and charger are compatible with all RYOBI ONE+ tools
Drill and Circular Saw Starter Kit
Why you need it
How are you going to drive a nail if you don't have room to swing a hammer? You'll find yourself heaps of tight spots when you're putting together a tiny house but Bostitch's tiny nailer can squeeze into all of them.
It's inexpensive and easy to use. All you have to do is insert the head of a nail in the end, put it in the right position, and press the button. A magnet built into the tool holds the nail for you so it won't fall out and leave you fumbling.
A top choice for tiny house bathrooms, which are notoriously small. Invest in this before you even think about getting the best tiny house bathroom appliances. 
The important stuff
One-pound nailer that fits in the palm of your hand

360° swivel air fitting lets you position it anywhere you need to

Insulating rubber grip reduces vibration while front exhaust directs air away

Compatible with a standard bulk finish, framing, and timber nails
Bostitch makes one of the smallest, best, and cheapest impact nailers around. It's great for putting in joist hangers and a godsend for places where swinging a hammer would be impossible or just too uncomfortable (directly overhead, for example).
That's often the case in tiny houses where space is limited. Plus, it's so easy to use that you may end up retiring your old-school hammer to the toolbox for good.
Why you need it
When building a small house, you're almost definitely going to be using wood, which necessitates a sander. But using a sanding block is time-consuming and tiresome, even if you're just making a small table or a cabinet.
If you've got plans for extensive wooden tiny house storage solutions, hand-sanding is going to be a lot of work. Or what about if you want to clad the entire exterior of your tiny house in wood? Exactly. 
That's why you need an electric sander like this one by Makita. It's affordable, and, as one of the reviewers said, it even achieved the impossible: made sanding enjoyable.
The important stuff
Big 1/8" random orbits at 12,000 orbits per minute, sanding wood quickly and smoothly

Uses 5-inch hook-and-loop abrasive disks for quick changes

Self-contained through-the-pad dust collection system with dust bag included

Highly durable, with rubber-sealed switch and oversized ball bearing
Makita's powerful 3-amp sander stands head and shoulders above the competition for ease of operation and fast and non-marking sanding action. There are cheaper sanders but this one will last a lifetime. The attached dust bag is great for keeping the air clear in small spaces, but if you need to, you can hook the unit up to a vacuum cleaner for even better dust removal.
Variable Speed Random Orbit Sander
Why you need it
You'll need a good circular saw for framing lumber, roofing, masonry, and many other jobs.
This power saw has a rubber over-mold for easy grip and control, even in slippery conditions, and a laser guide that generates a red line on the surface that you're working on so you can cut more accurately. 
Remember, measure twice, cut once!
The important stuff
Easy-access knobs allow you to adjust your depth easily and your beveling angle too.
Compatible with many Ryobi batteries
A 5 1/2 inch blad tipped with carbide to reduce corrosion and wear is also included
Another quality saw from Ryobi. The laser guide is bright, dead-on, and shows up on all visible surfaces of the piece you're sawing. Despite its power, this compact saw is just 12 x 8 x 12 inches—a definite plus when you're working (or living) in a tiny house.
Why you need it
A router is a tool used to hollow out areas of various shapes in wood, metal, plastic—or other tiny house materials. If you want to create fancy edges or patterns, this should be your tool of choice. if you don't think you'll need one when building a tiny house, think again.
For one thing, your tiny house is going to have cabinets, right? You're going to need places to store all those tiny house kitchen appliances, after all. 
And making those cabinets will involve serious joinery effort. To do that efficiently you need a router to create rabbets, dados, and dovetails. You can also use it for decorative effects.
The important stuff
Powerful 1¼ horsepower aluminum motor with variable 10,000 – 30,000 RPM operation

Soft start so it won't jerk in your hands and ruin the piece when you turn it on

Easy depth adjustments with quick release cam lock and rack-and-pinion fine depth adjustment

Electronic speed control keeps speed uniform as you cut
This solidly built router is the top choice for professional woodworkers looking for something compact. It's comfortable to hold, relatively quiet, and has a soft start feature, so it's a great choice for beginners as well. Powerful enough to handle anything you throw at it and durable enough that you'll still be doing projects with it years after you move into your tiny house.
Why you need it
Nothing can ruin a beautifully built tiny house like a sloppy paint job. But painting is deceptively tricky. It's harder than it looks to get a sleek finish and avoid roller marks.
If you're building your dream tiny house, you don't want to ruin it with a poor finish. Nor do you want to invest in bulky and expensive professional house painting gear. HomeRight's small and self-contained residential sprayer is a great alternative.
The important stuff
Makes it easy to achieve a smooth and even finish on painted surfaces. No more brush marks!

Variable flow rate with three adjustable spray patterns so you can use it for practically any painting application

Operates at low pressure for precise control and reduced over-spray

Easy clean up – just a few minutes
HomeRight's sprayer is very popular with DIYers for its high-quality finishes, ease of use, and low price. It's everything you need for a professional-looking paint job in one small package. You don't have to buy (or mess with) an air compressor or additional hoses. It works with latex, acrylics, and enamels, and has no trouble handling poly/topcoats and specialty paints either.
Why you need it
As a DIY builder, you can't count on having someone around to help by holding the other end of a tape measure. This ultra-tiny laser measure gives you an accurate distance at the touch of a button—and you don't have to go an inch out of your way.
The accuracy of measuring can make or break your tiny house and being precise will save time and money on materials. Ensure professional accuracy with this Bosch tool.
The important stuff
Precision laser technology with 1/8-inch accuracy up to 65 feet

Provides real-time measurements, adjusting as you move

Small enough to fit in your pocket

Simple one-button operation to begin measuring
This is Bosch's smallest and least expensive laser measure but it's still a quality product and the 50-foot range is plenty for a tiny house. It displays a continuous measurement and its capture feature lets you save one distance and then go on to take another. The minuscule size and square shape also allow you to measure from just about anywhere at any angle.
Why you need it
You'll love this for any task that requires straight lines or right angles. And trust us, whatever your design, there are a lot of those when you're building a tiny house.
Think about marking studs, hanging cabinets, flooring, and putting in countertops and appliances, for example. When being exact and precise is the name of the game, you can't afford to compromise.
The important stuff
Projects a pair of perpendicular laser lines up to 30 feet on any surface

Alignment guide allows for incremental 5-degree turns

Good accuracy of ½ inch at 30 feet

Comes with non-marking adhesive so you can attach it to vertical surfaces
Again, a general contractor would probably buy a larger and more capable device. But for the short distances in a tiny house, this is really all you need. This model wins respect for its bright laser (which is easily visible even in full daylight) and its true-to-square alignment. It also has two built-in bubble levels for accurate positioning.
Why you need it
This is a cheap but incredibly useful tool—probably the tiny house tool that's the best value for money on our list.
A lot of people find doing the wiring to be one of the most tedious parts of tiny house construction. Having a good tool for stripping, crimping and cutting can remove a lot of frustration and fatigue. This one by Irwin is self-adjusting and has a ProTouch Grip to reduce hand cramp. Definitely one of the most useful tiny house building supplies.
The important stuff
Strips wire from 10-24 AWG; crimps 10-22 AWG insulated/non-insulated

Self-adjusting mechanism, plus swivel knob for micro-adjustments

Includes wire cutter

No-slip ergonomic grips let you work for hours without discomfort
If you've done any wiring before you'll be amazed at how much easier it is with this tool. It adjusts automatically so you don't have to worry about the gauge of the wire—just grip and strip. It also has an adjustable stopper so you get the same strip length each time. Good for crimping and cutting too, while the comfortable grips make the whole process a lot less painful.
Bonus: Beer
Why you need it
No matter how many tools you have, the inevitable hiccup will always arise in your building plans. Before, during, or after construction, there's always a place for a cold brew. Plus it's a great way to bribe your friends to help you!
The important stuff
Stick with a lower alcohol type beer. Those 8.9% double IPAs will NOT do your coordination any favors.

Everything in moderation. Enjoy a brew with lunch, or for a mid-afternoon snack. Don't get plastered and start firing nails as target practice.

Get enough to share.
Do you have any recommendations for "must have" tools that you used to complete your build? Share your thoughts in the comments below.