Like most of you, I have very little building experience. The last structure I built was probably a basic wedge shaped skateboard ramp when I was about fifteen years old. With the abundance of first-time builders and DIYers out there who tackle their tiny house build, we thought it only appropriate to develop a new category for our blog that focuses on building tips. Our aim is to cover everything from the most basic things like how to correctly hold a hammer to more involved carpentry practices like how to properly cut dove tails. There's a whole vocabulary that comes with carpentry and building, and going forward we plan to connect with experienced builders who are willing to put down the handsaw and plug away at the keyboard to share useful insights.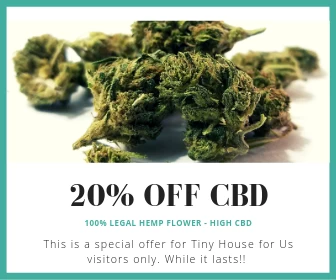 With that said, today I wanted to begin by exploring the topic of siding, which is arguably one of the most noticeable aspects of any house, a pure expression of the home's personality. In this article we'll explore some of the different styles and materials to choose from, and look at how one tiny house duo installed their own reclaimed wood siding.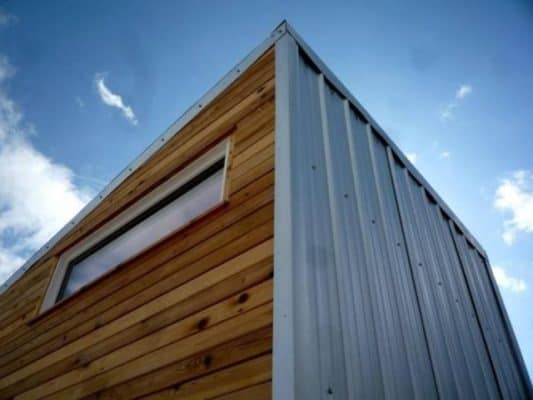 Common Siding Materials
Wood
For a long time wood was the only choice for siding. Despite new materials like vinyl and cement, wood is the traditional choice and also one of the most versatile. From cedar shingles and live edge clapboard to pieces from a reclaimed barn, you have an abundance of choices for wood siding and it's probably the most eco-friendly material. One downside is that it won't resist fire very well, and the constant exposure to weather means it usually needs a bit more maintenance than metal or vinyl. Over time it fades to a gray color, but you can always paint or stain it.
Metal
Although not as common, using a metal material for siding has its own advantages. For one, it won't burn, which is something to consider. On the other hand, it dents more easily than other materials. As for the type of metal, the most common seems to be corrugated aluminum, although steel is often used as well. Depending on where it's sourced, metal can be a "green" option. One downside is that it can rust, something that happens much more in a salty environment. We notice a growing number of houses using a combination of wood and metal siding, blending contemporary and rustic, which makes for an interesting look.
Vinyl
The favorite choice among cookie-cutter houses, and most homes across America, vinyl is known for its durability and low maintenance. You can find all sorts of colors and designs to mimic traditional shingles, clapboard and any other popular style. While it might cost a bit more than other materials, it will last a very long time. Given its plastic appearance, many homeowners opt for something with a bit more personality and authenticity. Given the hand-built nature of many tiny houses, where sustainability and resourcefulness takes center stage, we don't see vinyl used very often and that's a good thing in our opinion.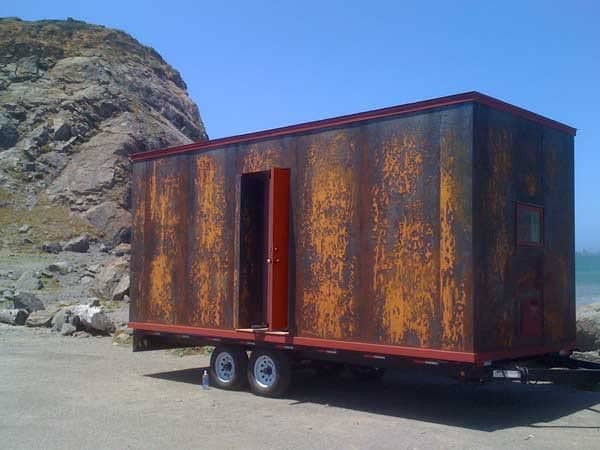 Popular Styles of Siding
From brick and stucco to reclaimed wood and cedar shingles, you have a lot of options when it comes to siding. We picked some of the more common ones used for tiny houses. Because weight is often an issue, certain materials like stucco, cement, and brick don't often make sense, but if you don't plan on moving your home they might be decent options.

Board and batten is a traditional method that uses a vertical arrangement. Typically seen in New England homes and cabins in the woods, it's one of the least expensive styles, and also uses very few screws, making it a bit more affordable. Often overlooked for alternative styles, it has been around for a long time and remains a tried and true method for good reason.

Source: annasdreamhouse.com
It's created by using wide cedar boards spaced with narrower boards (battens) covering the joints. You have the freedom to pick whatever width boards you like, though a common combination includes 1″x3″ battens and 1″ x 10″ boards.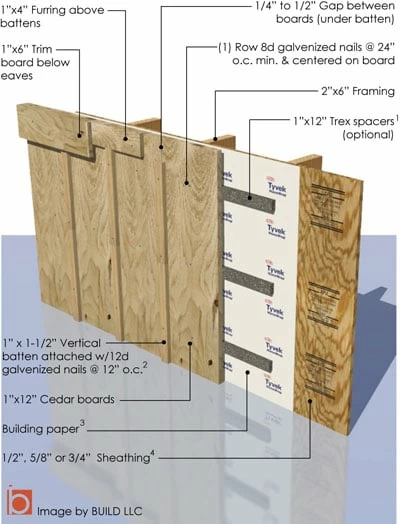 One advantage of this style is its ability to expand with humidity and contract during cold and dry winters, making it a good choice for homes that see varying weather patterns as the seasons change.
Clapboard (also known as lap or bevel) siding uses planks of wood installed horizontally, where the piece above overlaps the one below. This is a very common style, and it comes in a few variations. Regular clapboard is the simplest, while insulated and beaded styles offer a bit more versatility and protection.
Source: tinyhousedesign.com
Shingles give a smoother and more consistent look, and can be arranged staggered or straight edge depending on your preference. Traditional shake siding comes in the form of a wooden shingle made from split logs. Although the terms shake and shingle are often interchangeable, historically shakes bring a more rustic, hand-split connotation whereas shingles are sawed thicker and made commercially so they appear a bit more uniform.
Terms you should know:
Batten – vertical strips that cover the seams between boards used in vertical siding.
Course – a single horizontal row of siding.
J-Channel – a piece of trim material, usually around windows and doors, that accommodates the ends of vinyl or metal siding.
Reveal – The amount of material that's actually exposed and visible. For example, shingles overlap each other and the reveal is amount of shingle that's not tucked underneath the adjacent course above it.
Shake – As it refers to wood, a shake is similar to a shingle except it is split one or both sides resulting in a more heavily textured surface.
Sheathing – the plywood, wood or other material that forms the outer surface of your home's structure that the siding is attached to.
Shingle – As it refers to wood, a shingle is a small square or rectangular piece of siding material that's sawn on both sides.
Square – The unit of measurement used in the siding industry. A "square" equates to 10ft x 10ft (or 100 square feet of area).
The good folks at Tiny House Giant Journey offer a detailed explanation of their siding choice and the installation that went with it. Here's a video explaining their process: