Stories like this prove the American dream is alive and well, and show how the authentic pursuit a dream often leads to new opportunity. Lamar had been living comfortably with a teaching career, big house, pool, and a car parked in his 3-car garage, when sudden illness and divorce brought all those things crashing down. He ended up struggling to find a place to live, with no job to pay the bills and debt mounting on his shoulders.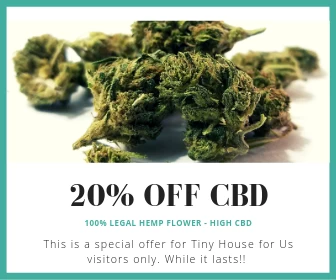 One thing he had left was a parcel of land he inherited and an old camper to sleep in. He also had a resolve to become debt free by cutting ties from corporate slavery. He set off clearing the land, living in the camper for two years as he slowly built the land into a homestead, complete with a well, chickens, solar/wind power, and eventually a 14×14 cabin that he built. Despite objections from the county about his house and the building permits he never obtained, the property was grandfathered in under state law and he met no further resistance.
Nearly everything he obtained to build the cabin was recycled, coming from his camper and other resourceful efforts to find what he needed to survive. But he soon found that with less obligation to pay monthly mortgage payments, bills, and rent, he was able to pursue new ventures. He started a pest control business, investing small amounts toward a business license, sprayers and equipment. He grew his customer base to several thousand, and re-invested his earnings into his homestead.
Having documented much of his work building the cabin, he set out to complete a basic ebook outlining his journey. It ended up doing pretty well, and soon publications like Mother Earth News and Treehugger were profiling him, helping to grow his visibility. Today he manages a successful website where he sells house plans and other resources to help people survive off the grid. To learn more about his adventures visit Simple Solar Homesteading.