Finding quality house plans can be tough. Finding quality ones for free is nearly impossible. Today I wanted to share a resource for what may be the best set of free plans for any tiny house we've come across. Best of all? The design is actually really, really nice. Maybe it's the reddish orange paint that sets this off, or the warm photos they took of the interior, or perhaps the free factor, but whatever the reason I really like it.
[vc_row][vc_column][vc_column_text]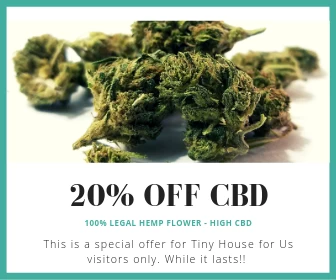 With an estimated cost of $17,000 to build it yourself, this 160 square-foot house has a lot going for it. Built on a 20′ trailer, it includes two lofts, one for sleeping and one for storage. The cathedral ceiling in the living area extends to 11′ high, offering a nice sense of vertical space. If you think just because the plans are free they might skimp on details, you'd be wrong. They include full construction notes, design criteria, trailer specs, joist by joist and stud framing plans, 3D renderings and even electrical and plumbing plans. There's an optional extension plan you can purchase that includes specs for a dormer if you want.
Some of the details I like include the caddy-corner bookshelf on the left, with small work desk beneath it. A Dickinson stove mounted on the wall heats up this cozy little home. You can learn more about the Dickinson heater here.
We've seen the sink/toilet combo before, and while it might freak out your guests, once you explain that you don't actually drink toilet water it will make more sense. You can learn more about the "Sinkpositive" toilet here.
Images © Tatsuya Sato for The Small House Catalog[/vc_column_text][vc_button title="Download plans for this tiny house" target="_blank" color="btn-warning" icon="wpb_arrow" size="wpb_regularsize" href="http://tinyhousefor.us/wp-content/uploads/2014/10/rolling-bungalow-us-version-free"][/vc_column][/vc_row]