Flatbed trailers make a great choice for an alternative foundation to use when building a tiny house. They afford you the opportunity to tow your home anywhere, and with a variety of different sizes you can find a length that fits your exact needs. It also marks one of the very first steps many aspiring tiny home builders take, and it's a significant investment. For those reasons, it's important to think about the pros and cons of a fully prepped trailer vs. a used one you need to spend time and money modifying to fit your needs. Today we'll explore the ideal trailer specs, and explore some of the basic methods to attach a sub-floor to the trailer so you can begin framing your tiny home.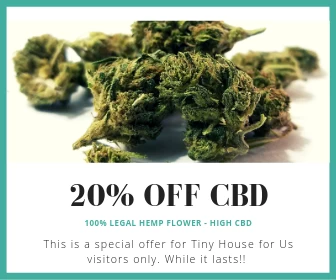 The ideal trailer includes:
Heavy duty axles each rated at 5,200 lb GVWR
8'6″ wide and anywhere from 20-22′ long (or larger, it's up to you). Keep in mind the Department of Transportation limits the dimensions to 8′-6″ wide x 13′-6″ tall x 40′ long.
Electric brakes with working lights. You want to be sure to have extra stopping power when hauling 10,000 pounds of precious cargo.
Steel flange welded to the side to maximize width and reduce the amount of overhang and maximize the width of your frame.
Minimally curved fenders are less invasive in terms of space they take up, making it easier to build around.
High load tires that can sustain the weight of a tiny house without risk of blowing out.
A steel beam deck is preferable to a wood lined one, as it provides better strength and lighter weight.
One of our favorite sites, Tiny Home Builders, offers several different size trailers priced between $3000-5000 depending on the size. They come fully prepped for a tiny house build, meaning you don't have to worry about shaving off piece of metal or welding anything. Other vendors you might consider include Mac-Lander, Tumbleweed, PJ Trailers, and Iron Eagle. These companies all have experience modifying trailers for tiny house builds, and sell ready-to-use models that don't require any prepping or modifications. Expect to pay around $3-4,000 for a brand-new trailer and of course you should check Craigslist to see what might be available. You never know when you might find a great deal on a used one.
Types of Trailers
Although the flatbed version shown above is our favorite choice and probably the most popular among builders, you do have other options. They include:
Deck-between: This is the most popular choice, and the same as the one you see above, with a deck between the wheel wells. They sit lower than the "deck-over" style, making it a good choice to maximize building height, especially when incorporating a loft. If you do not have the luxury of the extended steel flanges, the width will be closer to 6′ instead of 8′.
Deck-over: This popular type of trailer doesn't include the wheel wells, meaning you'll build over them. It might be a good choice if you don't need a loft and only want a one-story house, but when height matters, the "deck-between" style is much more preferable.
Gooseneck: This type includes a hitch connection that rises from the front of the trailer, and is usually found on larger trailers around 30′ or more in length. The gooseneck can provide a bit of extra building space. Check out the popular Minimotives site to see how Macy used it to build a loft space for sleeping.
Dovetail: This type includes an angled portion at the rear of the trailer that drops down to allow easier loading for cars or tractors for example. This type is not recommended for using as a foundation, as extra work would be required to make it suitable for a house.
Initial Prepping
Once you get your trailer, the first question you might have is "how do I get started"? If you bought a trailer from a company like Tiny Home Builders or Tumbleweed, you don't have to do anything to modify it, and can start prepping the subfloor right away, but if you found one on Craigslist you might have a bit of prep work ahead. Depending on the condition, this could be fairly involved, requiring cutting steel, welding, and removing rust. You'll need to remove all vertical metal side rails and anything that sticks up above the surface as you prep it for subfloor installation.
This type of trailer would not be recommended, as the raised sides and ramp would need to be removed. Even if you find something like this for a great price, the time and effort spent making it work might not be worth it.
Styles of Subfloor – Recessed or On Top
You have two basic options when installing a subfloor. You can build on top of the trailer, or embed the subfloor within the frame. The image below does a great job explaining the benefits of building on top of the frame rather than recessing the floor into the frame (click to enlarge)
As you can see, building a subfloor on top of the frame provides consistent insulation and leaves more room for plumbing clearance underneath. Depending on the climate where you live, and your plumbing situation, either method could work.
Attaching the Subfloor To the Trailer
Of course the most obvious question you might have at this point centers around how to attach the subfloor to the metal trailer frame. It's actually not as difficult as you might first imagine. The basic idea is to drill holes through the wood and metal and use bolts to secure the floor joists. Dan Louche of Tiny Home Builders recommends drilling a 1″ wide hole, and using 3/8″ lag bolts, nuts, and a washer to secure it to to the trailer.
Getting the Full 8′ Width
Obviously you want to make sure you squeeze every possible inch of space out of your build, and if you purchased a flatbed trailer that doesn't have the steel flanges, you'll probably want to build trailer bed extensions. This basically requires securing a few pieces of lumber to the entire length of the outside of the frame, only separated by the wheel wells. Scratch Pad Tiny House put together an excellent series of videos showing how they build their extensions, and then attached them to the trailer.
Attaching the subfloor
Foundation Work
Adding Flashing
Useful Resources:
http://www.edystinyhouse.com/2014/07/10/tiny-house-build-step-1-trailer-prep-and-foundation/
http://livinginatinyhouse.blogspot.com/2013/04/subfloor-framing-completed.html
https://www.youtube.com/user/scratchpadtinyhouse
Dan Louche's Tiny Home Builders